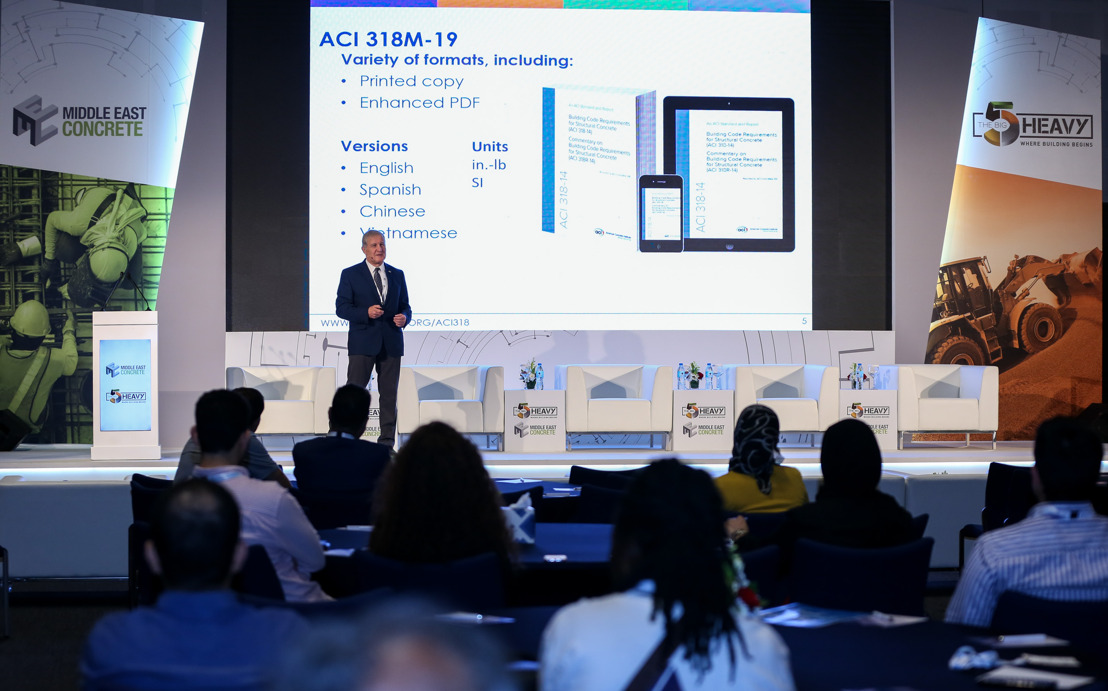 AMERICAN CONCRETE INSTITUTE FURTHER ESTABLISH DUBAI PRECENCE WITH CONFERENCE AT MIDDLE EAST CONCRETE
The American Concrete Institute Conference has taken place for a third edition today at Middle East Concrete.

Middle East Concrete is the leading dedicated platform for the concrete industry in the region and runs until 28th November 2019 at Dubai World Trade Centre.
The American Concrete Institute Conference was held for a third edition during the opening day of Middle East Concrete, the leading dedicated platform for the concrete industry in the region.
A principal authority and resource worldwide for the development, dissemination, and adoption of its consensus-based standards, the American Concrete Institute (ACI) pursues a global effort to ensure the best use of concrete through educational, training, and certification programmes.
Ahmad Mhanna, Middle East Regional Director for American Concrete Institute said:
"We are delighted to have presented the American Concrete Institute Conference once again here in Dubai. Today's event has not only given an opportunity for us to provide insight into essential concrete topics for Middle East construction stakeholders, but has also provided a space for open discussion into what lies ahead for concrete in the region, its challenges and its uses.
This year we had speakers representing ACI UAE Chapter for the first time. Having always chosen to hold the series at Middle East Concrete, I can say that partnering with the event has played a pivotal role towards ACI establishing stronger presence within the region's concrete community and to continue advancing concrete knowledge."
Since the ACI last featured at Middle East Concrete, which took place in November 2018, the authority has opened a regional office in Dubai - marking the institute's first physical presence outside the US where it has been headquartered since its inception in 1904.
The conference was CPD (Continuing Professional Development) certified and free to attend for industry professionals, featuring an agenda that covered the latest concrete trends and practices including durability, repair, and self-consolidating concrete, as well as offering insight into the ACI Building Code Requirements for Structural Concrete.
With more exhibitors than ever before, Middle East Concrete plays host to over 100 heavyweights including Putzmeister, Progress Group, Command Alkon, Elematic and Elkon. The event runs alongside The Big 5, The Big 5 Heavy, HVAC R Expo, Middle East Stone, The Big 5 Solar, and Urban Design & Landscape Expo.
The total offering at Dubai World Trade Centre includes over 240 workshops, and 20,000 products from worldwide exhibitors, transforming Dubai World Trade Centre into the global hub for the construction industry from 25 -28 November 2019.
Media Gallery:
Media Contact:

Elisha Dessurne Content and Public Relations Manager, dmg events