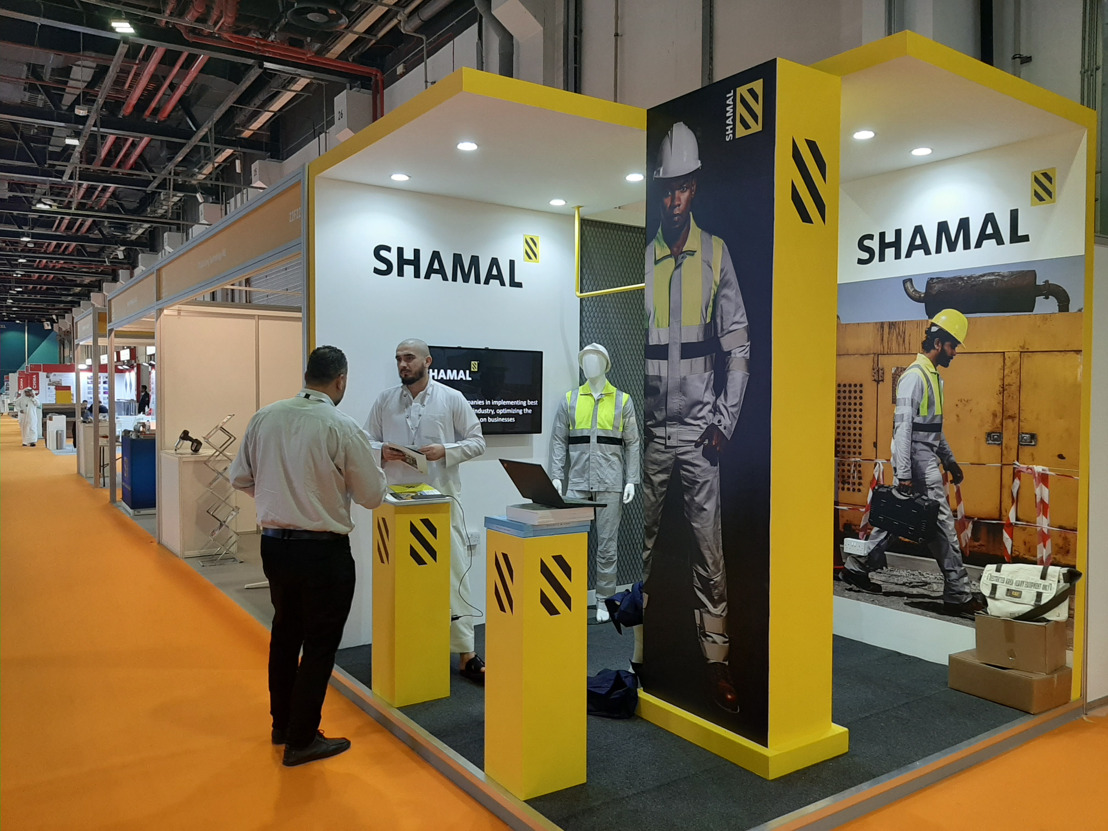 CE-CREATES LAUNCHES SHAMAL - THE NEXT GENERATION OF WORKWEAR FOR EXTREME CLIMATES
Shamal leverages the latest fabric technology to engineer specialized industrial clothing, enhancing health & safety for outdoor professionals

World's first state-of-the-art garments showcased at The Big 5 exhibition in Dubai
Dubai, United Arab Emirates, November 27, 2019: CE-Creates, the internal business incubation platform of Crescent Enterprises, today announced the launch of Shamal - the next generation of specialized industrial clothing.
In what is a world first, on a technological and entrepreneurial front, Shamal is developing a suite of technology-driven solutions set to enhance safety for professionals working outdoors in challenging climate conditions. The state-of-the-art garments, which do not compromise functionality for comfort, were launched and showcased at The Big 5 exhibition in Dubai.
Shamal's ethos firmly focuses on the understanding that safety and comfort are not mutually exclusive. Its pioneering approach places enhanced efficiency and comfort at the center of operational excellence. This has been a key driver in the research, design, and development phases of its products.
When it comes to workwear, comfort is not always top of mind, but for Shamal, worker comfort goes hand in hand with productivity and efficiency. An empowered workforce is a productive one, and through a groundbreaking combination of the latest in fabric technology, Shamal has developed garments designed for construction, municipal, and other outdoor workers that are exposed to the extreme summer temperatures of our region.
Samer Choucair, Director of CE-Creates, said:
"Our focus on developing innovative solutions is underpinned by a dedication to addressing economic, social, and environmental challenges. What you see here today is a culmination of years of research and development and an effective and robust solution to one of the most common challenges faced by today's workforce around the world."
Choosing the right garment is a crucial factor in regulating temperature for those who work in physically demanding roles. For many professionals who face challenging weather conditions, the garments will offer welcome relief from heat stress and heat-related illnesses. By increasing the level of comfort for workers, the garments will be an integral part of a holistic approach to worker safety, which includes safety training and health monitoring.
The UAE is known around the world for the rapid pace of infrastructure growth achieved. Supporting the construction industry and those who work in it is indeed a key focus for Shamal. However, the technology developed by Shamal will serve to support several growing industries in the UAE, including agriculture and waste management.
For many who work outdoors, an increased metabolic rate and overheating are alarming concerns. Increasing water intake and self-monitoring have traditionally been a means for coping - but in a bid to further enhance safety and comfort, Shamal has worked to develop and utilize technologies that mean the core concern of overheating is addressed.
"The garments have been rigorously tested in a painstaking process involving six stages of prototypes tests in the UAE. To ensure performance at the highest level, all elements of the garments were tested including fabrics and designs. Further testing involved mannequin simulations and onsite trials in challenging conditions. Results reported include significant reduction in garment weight and improved thermal comfort superior to any previous garment worn. These testaments are the greatest advocacy for the efficiency of our product,"
said Choucair.
Years of extensive research have culminated in a versatile product suite featuring the latest fabric technologies designed by industry experts. In a bid to ensure the very best in design, the evaluation process went through a consortium of UAE and international construction companies. Factors taken into consideration when developing the garments include heat dissipation, durability, and comfort. Traditional concerns including shrinkage, reflective stripe and hardware disintegration and tears were also addressed. The result is an engineering masterpiece in body temperature regulation.
"The challenging weather conditions we face in the UAE are not unique to the region. Globally, there is a rising concern for facilitating safe working in a wide range of professions, including waste management and engineering. We continue to work towards a full range of innovative gear and a complete ecosystem facilitating worker welfare."
concluded Choucair.
About Crescent Enterprises
Crescent Enterprises is a multinational company headquartered in the United Arab Emirates (UAE). The company works globally through four distinct platforms: CE-Operates, CE-Invests, CE-Ventures, and CE-Creates; across numerous sectors, including ports and logistics, power and engineering, and food and beverages; and in verticals such as private equity, venture capital, and business incubation. Crescent Enterprises' business interests span 33 subsidiaries, affiliates, and investments in 15 countries. Together with its subsidiaries, the company employs over 3,000 people.
Crescent Enterprises is a subsidiary of the Crescent Group, a progressive, family-owned business group that has contributed to shaping the economic landscape of the Middle East and North Africa (MENA) for more than 48 years. Crescent Group's other subsidiary, Crescent Petroleum, is the first and largest privately owned indigenous upstream oil and gas company in the Middle East.
About Shamal
Shamal is a start-up focused on developing the next generation of specialised industrial clothing. Shamal's range of workwear is a culmination of the latest technology and innovation, carefully executed to ensure the comfort and occupational health of construction workers in warm climates around the world.
The rapid growth of infrastructure and the rise in the number of construction projects across the region is evident. However, much of the workwear available is unsuited to the regional climate. In response to a pertinent need, Shamal was amongst the first to recognise the challenge and work towards developing clothing specially designed for the warm weather conditions faced by construction workers.
Shamal is adopting and innovating textile technology to develop workwear specifically suited to the needs of workers in the MENA region's construction industry. By delivering groundbreaking, functional and robust garments, Shamal aims to enhance both safety and productivity.
To find out more on this exhibitor contact:

Elisha Dessurne Content and Public Relations Manager, dmg events