EXHIBITOR INTERVIEW: ATAI FZC
In talks with Richard Cuddihy, General Manager
Atai FZC will be exhibiting its latest products at HVAC R Expo this November. We spoke to the General Manager, Richard Cuddihy; here's what he told us as he prepares to participate in the region's leading dedicated HVAC R Show.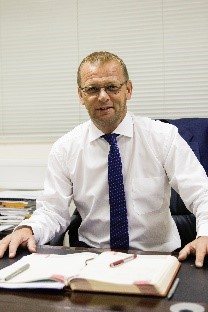 What products will you be showcasing at the event?
We will be showcasing our SS Duct, Fire Rated Duct, Phenolic UL 181 insulated Duct, Fire Smoke Dampers and Silencers.
What value do these products bring to the region's HVAC R industry?
All these products which are internationally approved and accredited can ensure that the Middle East region is fully up to date with international standards.
Are there challenges you are currently facing in the HVAC industry? What are the latest solutions to overcome them?
One of the major challenges we face is timely payment, and improved industry regulations is the only solution that can help to combat this.
Is there something you are really looking forward to in the pipeline?
We are really looking forward to Expo 2020 to see if it affects our Industry in any way.
How will it benefit customers to see you at the event?
Customers get added confidence in our company and know we are still a strong and vibrant supplier in the marketplace with our presence at the event.
What was the best part about your time at the event last year?
It is always a great event and one gains knowledge each year from the co-exhibitors and customers.
Why did you choose to participate again for the event this year?
We as a company feel that this event highlights our presence in the market place and it is a great marketing tool.
About Atai FZC -
Atai is a quality assured ISO 9001:2000 registered company since 1995, we pride ourselves on our levels of service in all areas of our business and the quality of our products.
Atai hold long standing accreditations and relationships with SMACNA, AMCA and LPCB, along with UL product approvals.
Meet with Atai FZC at HVAC R Expo - Location: Za'abeel Hall 6 Stand Z6 B30