MOST TRANSFORMATIVE LEADERS IN THE FIELD OF CONSTRUCTION MACHINERY, TRANSWORLD METAL WORKS LLC JOIN THE BIG 5 HEAVY
In talks with Abdulla Ibrahim Saeed Lootah & Badri Narayanan, Vice Chairman of Lootah Group of Companies & Managing Director of Transworld Metal Works LLC respectively
Transworld Metal Works LLC will be exhibiting its latest products at The Big 5 Heavy in Dubai this November. We spoke to Abdulla Ibrahim Saeed Lootah & Badri Narayanan, Vice Chairman of Lootah Group of Companies & Managing Director of Transworld Metal Works LLC respectively; here's what they told us as they prepare to participate at the largest event dedicated to the infrastructure and heavy construction community in the Middle East.
Please tell us a bit about your company and its vision.
Transworld is a new-age company of this current millennium and promoted by one of the most trusted business houses (Lootah Group) in the Gulf and Africa which is led by senior industry experts. The team comprises of highly knowledgeable industry professionals, committed and skilled young workforce who are correctly poised to deliver the best in class products, services and solutions with a high degree of consistency with reliability. The company's activities cover a broad portfolio of products, technologies with world-class global brand alliances for an array of value-added services.
Founded in 2008, Transworld has ambitious plans and expects to grow rapidly with the following products & services offering:
1. Concrete equipment & mortar machines from global leaders
​2. Construction & earthmoving equipment services & solutions
​3. Equipment maintenance & repair contracts
​4. Engines & generator sets
​5. Industrial products
​6. State of art body building, fabrication & precision metal works
​7. Equipment hire & operating lease
​8. Quality used equipment
Vision:
​To be the fastest growing, most rewarding and most transformative leaders in the field of construction machinery, concrete pumping & ready-mix industry equipment and metal body builders for fuel and other transport vehicles and storage. As well to be the preferred partner to all our customers for providing innovative, reliable and sustainable products, equipment services and solutions with an objective to create value for all stakeholders and the society at large.
Mission:
​To be the best turnkey service provider in the industry to position Transworld as the expert in the field. Market & maintain best in class equipment for various key sectors including infrastructure, energy, mining and industrial sector and achieve high level of customer satisfaction to drive loyalty and establish market leadership. The company shall ​ achieve this through products of global standards, outstanding after-market solutions, robust business systems & processes, motivated & engaged employees with a high level of values & ethics and commitment to QHSE.
Why did you decide to sponsor Middle East Concrete 2019?
Since Middle East Concrete is the epicenter of information of concrete & the construction industry in the region, making a statement detailing our operations (since 2008), our specialties, expansion plans and our growth story of 10 successful years will reach global audience through our attendance and sponsorship. Also, to introduce ourselves as distributors of leading global brands of construction equipment and set the stage for launch of new products in phases and to showcase our capability, competency and skills in diverse business segments. The aim is also to establish the value differential using the contemporary and popular RUN model i.e. Rental - Used – New. Where the focus shifts from offering products to identifying customer needs in order to provide customized and tailored equipment solutions.
What makes Transworld Metal stand out from its competitors?
Standing out from competition is critical to our company's success; hence our long-term goal is to deliver extraordinary services and address customer special needs. Do business differently by creating a better experience. As highlighted earlier in RUN model, our objective is to provide customized and tailored equipment solutions based on actual customer needs. We shall fulfill our promise with innovative technology driven solutions to ensure high performance, productivity and reliability backed by unmatched product support. At our one-stop-shop for equipment, we guarantee competitive rates and real value for money!
What products will you be showcasing at the show?
Although several new initiatives are on the way, in the forthcoming event we shall showcase the following products with several other hydraulic driven products and complete array of steel manufacturing product like fuel tankers, dispenser's, trailers, cargo bodies etc.
​1. Concrete pumps
​2. Hydraulic truck block cranes and hook cranes
​3. Pick & carry lorry cranes
​4. Mini cranes for pick ups & vans
​5. Hydraulic equipment & machinery
​6. Automatic lubrication systems
​7. High pressure washers
​8. Fuel tankers
​9. Fuel dispensing equipment & trucks
​10. Equipment parts & consumables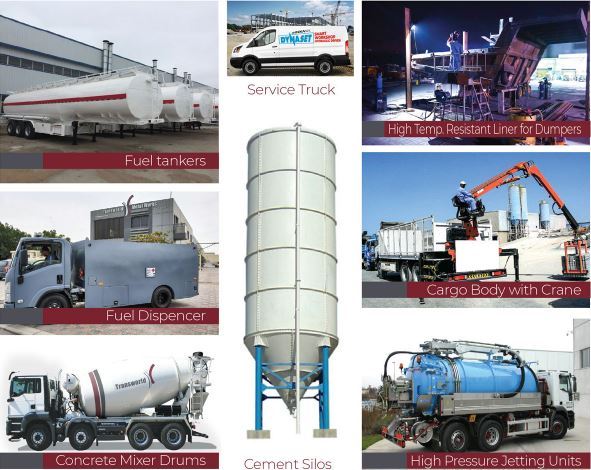 What is your opinion on being part of trade shows to promote one's brand in today's day and age?
Even though the new age belongs to the Internet (social media), trade shows still have certain semblance when you need to connect with your clients, customers and principals and create a place wherein principal, distributors and end users are on a common platform having satisfaction of face to face interaction.
​Successful events provide great opportunity of direct connection between the buyer and seller, besides the possibility of interaction with other interest groups like vendors, traders, OEM's / manufacturers, consultants, equipment finance companies, media, industry partners etc. The trade shows are also a good module for lead generation, cost effective advertising and in creating brand awareness and/or brand building.
Why is it important to do business in the Gulf region? What is unique about it compared to other regions?
Its strategically very important for any business to be in the Gulf because of the geographical hub and speaking pattern to develop trade in the Gulf region due to most liberal and cost competitive business environment with fewer barriers, innovative economy highly skilled workforce, the best expat lifestyle, 100% foreign ownership etc.
​The Investors of Transworld have a deep-rooted relationship and commitment for the Gulf region. Further, the leadership team and all its employees have a long history of association with the Gulf and have already made significant contribution towards Infrastructure and Industrial development in some form in the past. In order to strengthen such efforts, this team is even more excited to provide innovate and effective equipment solutions to add value and speed up rapid progress and development in the region. Capability, competency, right domain knowledge and skills have become critically important towards providing innovative and value-added solutions to customers at competitive prices in view of globalization. Therefore, to stay ahead or to excel, Transworld has the right products, right services and right people in place to establish the competitive edge and make a difference.
Is there something you are really looking forward to in the pipeline?
We expect the trade show organisers to create the right forum to showcase our products, services and winning differentials to the right target audience.
​Transworld is also discussing with many leading equipment majors who are interested to forge tie-ups for bringing the best possible technology and reliable products to the Gulf market. We shall keep our customers posted time to time regarding progress on such matters.
What would you say to others who are on the fence about exhibiting?
The decision regarding participation as an exhibitor depends on a number of factors and the corporate objectives and challenges would be relevant to decide on this important issue.
​Unlike retail products & consumer services where bulk orders these days are finalized through E-commerce channels, capital equipment still require face to face interaction with customers, as well preference for touch and feel prior to finalization. Keeping these preferences in mind, we would like to have customers in our stand to have a first-hand feel of our capability and competency and also access to the wide range of popular products & services that makes Transworld unique and a winning option
About Transworld Metal Works LLC -
Transworld Metal Works LLC was established in UAE since 2008, speacialized manufacturers of all types of transport equipment and are an authorized distributor, service provider for various construction equipment including hydraulics with a 30+ years of experience team in sales and service in the ready mix industry, construction machinery & concrete pumps.
Meet Transworld Metal Works LLC at The Big 5 Heavy, Rashid B168, Dubai World Trade Centre, from 25 to 28 November!