NEWS FROM THE BIG 5 DIGITAL FESTIVAL- DAY 1
The Big 5 Digital Festival, the leading online event for the global construction community, officially launched today. Running until November 26, the event gathers thousands of industry professionals from around the world, including representatives from over 500 construction brands, and more than 130 expert speakers from 23 countries.
Opening the digital event of The Big 5, Josine Heijmans, Vice President - Construction at dmg events, said:
"It goes without saying that we would have loved to meet you face to face at the Dubai World Trade Centre, just as we did for the past 40 years. But the pandemic has shaped unprecedented changes - some temporary, some irreversible - in our lives, markets, and business models.
"Today, construction players are tasked to navigate through an unprecedented situation, leverage an impending disruption, and get ready for the next normal. Not an easy task. But, representing 13% of the global GDP, the construction and infrastructure industry will be of essence for the positive recovery of the world economy at large.
"This is why at dmg events we thought it was important to develop this special edition of The Big 5, to gather you all, industry leaders, experts, decision-makers, innovators, and take a moment to reflect, share what we've all learned during these past exceptional months, and restart business with a clear vision, new connections, and innovative ideas.
"Our Redefining Construction programme is designed exactly for that: to provide strategic insights, analysis, global case studies and inspiration from over 130 experts from across the globe. For the next four days, you will be able to access premium content exploring market outlooks, project management, smart & digital, sustainability, architecture & design, and facilities management strategies across simultaneous sessions.
We also wanted to make sure the industry could reconnect despite travel restrictions, lockdowns, and physical distancing. We are therefore extremely proud to be hosting over 500 global brands on this platform, enabling suppliers to connect again with old and new clients, boost partnerships and business opportunities, and present innovative products and solutions for tomorrow's construction and infrastructure projects.
"We know that the crisis is not fully over yet. But as the world prepares for the next normal, so does construction here today."
---
Here's a selection of statements from leading experts, taken throughout sessions taking place in this special edition of The Big 5
(you can access the recording on-demand by registering and logging in HERE)
Market Outlook - What are the basic economic forecasts for the next 1, 3 and 5 years? What does this mean for global construction businesses?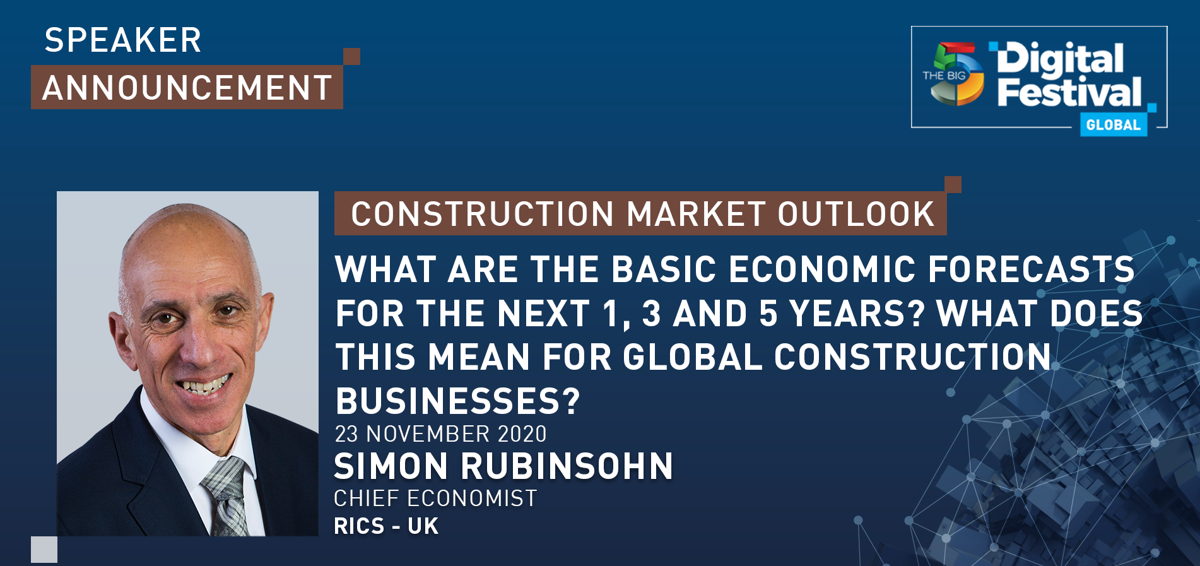 Simon Rubinsohn, Chief Economist, RICS explored the moves that need to be made within construction to ensure support from this crucial industry toward wider economic recovery:
"Public investment in infrastructure and construction is a very important part in the delivery of the recovery over the next year and beyond. Driving the medium-term recovery, public investment has an absolutely pivotal role because the fiscal multipliers, the knock-on effects, of that investment are way stronger than other forms of government intervention."
According to Rubinsohn, policymakers have got to think about how to stimulate the construction and infrastructure sector to help stimulate a stronger economy:
"I think it's imperative that new developments and construction infrastructure are really built to a different standard, meeting high sustainability criteria. I think we also need to really focus on building the skills to manage the economic transition."
---
Design & Architecture - Designing for Health - How buildings can promote wellbeing?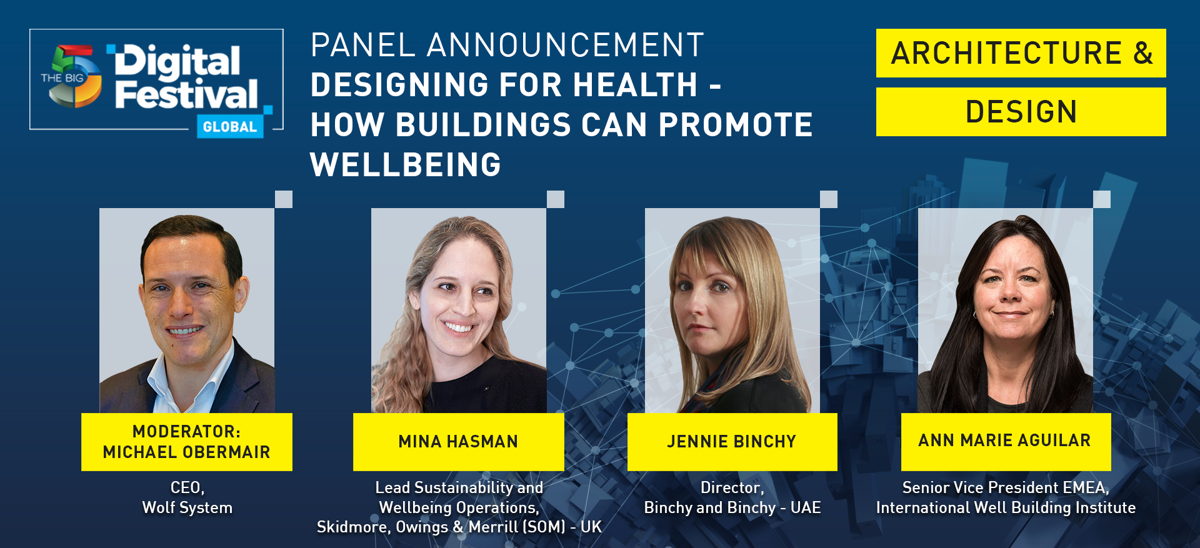 Mina Hasman RIBA, Lead Sustainability and Wellbeing Operations, SKIDMORE, OWINGS & MERRILL (SOM)- UK covered the impact of COVID-19 toward the role of buildings in promoting occupants wellbeing:
"When we think of people's health, we may not have immediately created a direct link to architecture before, but I believe the COVID-19 pandemic is changing that perspective. We have a new renewed focus on the ways we interact with one another, but also with the built environment. I would even say that it has brought these concepts of architecture and health to the mainstream.
​
​Now, it isn't just the built-in professionals, scientists, researchers, or medical experts grasping how people's health and wellbeing ​ is intrinsically linked to the spaces they inhabit and occupying. It's in everyone's conscious and awareness, especially today where our lives have been confined to rather limited boundaries of the buildings and the spaces that we live in or work. "
Ann Marie Aguilar, Senior Vice President EMEA, International Well Building Institute – UK on health and wellbeing as being a staple consideration toward ESG investment, and one that is guaranteed to support business in tough times:
"Companies that have historically prioritized health in past financial crises saw a lower employment burnout, increased productivity, higher job satisfaction, and that allowed them to get through a very typically economic, challenging time. We are in the firm belief that ESG (environmental, social and governance criteria) is going to be a very strong movement going forward; many believe that healthy buildings eventually will lead to market differentiation and return, which would obviously include better rents, better tenant retention and, and, um, holding onto tenants for a longer period of time."
Jennie Binchy, Director, Binchy and Binchy – UAE highlighted the importance of monitoring built assets post-design, to ensure that buildings and real estate are truly promoting health and wellbeing to occupants:
"Beyond designing for health and wellbeing, it is crucial to develop processes to monitor developed spaces. Sure, you have the right kind of shading, you're using high quality materials, you have low VOC and all else that we work to achieve, but is the light quality right for the end-user? is the water clean etc.? When you begin to monitor you can actually use that information to see how well your building is actually functioning and how well the inhabitants are functioning inside the space."
---
Digital & Smart - Digital Dialogues - Adapting to a world of exponential change
Dr. Ozan Koseoglu, Associate Professor - Faculty of Engineering and Information Sciences, UOWD beginned touching on just how organisations can start their digital transformation journey:
"With a digital roadmap, the first priority is disrupting your existing business model so that we are able to see the new business value. That's the challenge all the companies are facing across the life cycle. We have plenty of design to engineering, to facilities management, I think all the companies are going through this journey that is beyond just the technology.
What is going to be the winner for them is the business model, how they're going to position themselves in the overall sense within this journey? The last 20 years, we experienced a lot of difficulties and challenges in adoption because of this, but over the next five years, I believe at least from what I've seen there is a going to be a quicker adoption and a steeper curve."
David Calkins, Regional Managing Principal, Asia Pacific & Middle East, Gensler looked to the finer details, insisting that culture within an organisation is key to adopting any new strategy:
"I've heard it said that culture eats strategy for breakfast. And I think that's really true. Our culture is probably the most important thing to us. And the great part about that is that it's very forward-looking. Arthur Gensler started the company that way, and always wanted to be where the competition wasn't, you know, when the competition caught up with him, he wanted to be 10 steps down the road.
So we've got these guiding principles that have a whole series of qualities in them, like curiosity, growth, diversity, innovation, and collaboration, all that stuff is very, very forward-looking. And so I think that that helps us focus everybody being a learning culture. We believe that our culture is really one of the huge keys to our success."
Jason Singleton, Vice President, Buildings - Middle East, AECOM explored the more technical aspect of digitisation within organisations, reporting that common data environments (CDE) are a big focus for AECOM going forward:
"[CDE] is linking not just tools for designers, it's tools for contractors that build the assets, and the asset owners. So we're trying to link vertical and horizontal from a design perspective, but we also want to link horizontal into construction and asset operations.
"I think that's the area we're seeing our investment really going to develop; enterprise agreements with major software suppliers. How do we link data to turn it into information? We've got loads of data, but need to know how to convert that into useful information to inform decisions, inform plans, and make better assets in the built environment.
"For that we need to work not just as a construction industry, we need to work with the software industry, as we're trying to move information around and we're not experts in that way. We need people who bring other skills into our industry; data analytics, data information management, and data governance are all these things that we're grappling with as an industry."
Access today's sessions on-demand HERE by registering or logging in The Big 5 Digital Festival platform.
---
More inspiring sessions will take place tomorrow at The BIg 5 Digital Festival, such as:
- David Glennon, Digital Delivery Director, The Red Sea Development Company | Impact of BIM on Giga-projects
- Ricardo Vargas, Executive Director, Brightline, Project Management Institute | The importance of project leaders in driving successful transformation: new normal
- Brett Smythe, Chief Projects Officer, NEOM | Importance of Saudi Arabia's Giga-projects in the global & regional economy
- Panel Discussion | The future of construction – improving relationships, altering processes and mindsets to thrive in the VUCA world
- Panel Discussion | Gender balance in construction
- Panel Discussion | Riding the sustainability wave: Keys to a sustainable circular economy
and many more! Discover the full conference program HERE
---
Organised by dmg events, The Big 5 Digital Festival continues online from 11:00 am to 6:00pm daily, from 23 to 26 November. Join the leading gathering of the global construction community HERE
Media Contacts:

Elisha Dessurne Content and Public Relations Manager, dmg events