NEWS FROM THE BIG 5 DIGITAL FESTIVAL- DAY 2
Another successful day of online networking, product showcases and knowledge sharing has concluded at The Big 5 Digital Festival, the leading online event for the global construction community. The event runs until November 26 gathering thousands of industry professionals from around the world, including representatives from over 500 construction brands, and more than 130 expert speakers from 23 countries.
Here's the selection of statements from leading experts, taken throughout sessions held at this special edition of The Big 5
(You can access all recordings on-demand by registering and logging in HERE)
Market Outlook - Importance of Saudi Arabia's giga-projects in the global & regional economy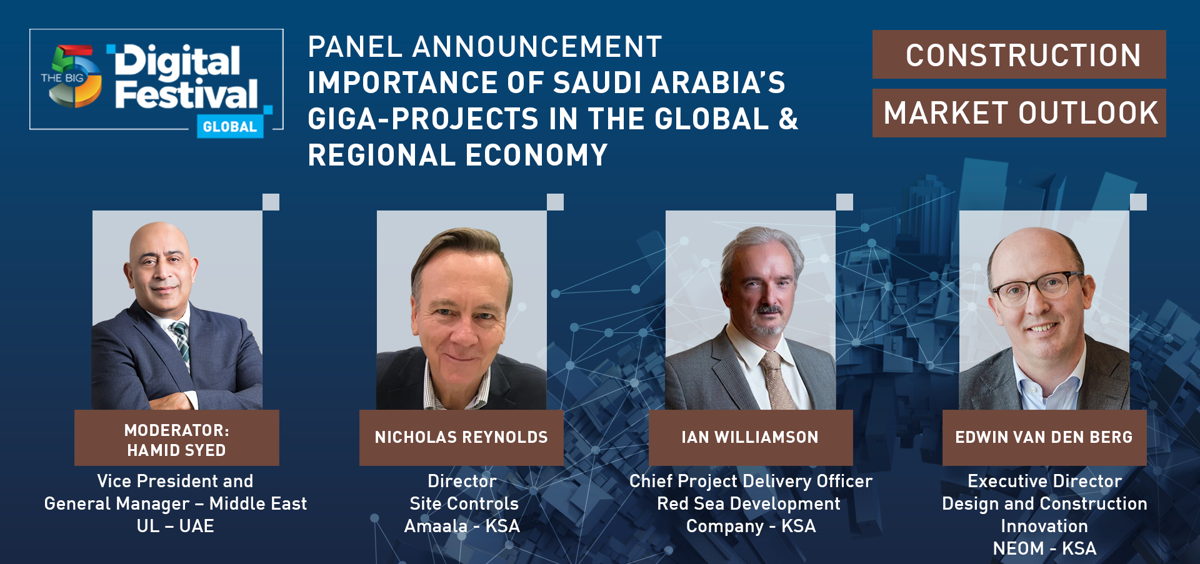 Hamid Syed, Vice President and General Manager – Middle East, UL – UAE provided a brief overview of the current economic landscape and construction drivers in Saudi Arabia:
"By now it is a common knowledge that the key points of Saudi Arabia's Vision 2030 are to diversify the economy and reduce its dependency on the oil and gas sector. The diversification efforts are expected to come from key sectors, such as tourism, transportation, logistics, and renewable energy to name a few; some of the iconic projects announced as part of the Vision 2030 include the Red Sea projects, Amaala, and NEOM."
Scott Henshaw, Buildings and Places Executive Director, Red Sea Development Company – KSA commented on the development of the Red Sea project:
"Despite the challenging time that we're in, we are continuing to make great progress on the ground at the Red Sea project. We have awarded more than 500 contracts with the value of over 7.5 billion SAR. We expect to increase our commitments to around 15 billion SAR by the end of the year, with all of our scheduled targets currently on track. Therefore, we're still planning to receive our first guest by the end of 2022."
Brett Smythe, Chief Projects Officer, NEOM shared some insights from NEOM along with forecast for future milestones:
At NEOM, "We're underway for one of the largest transport infrastructure projects in the world at the moment. We're having to operate in seven different locations in the world as virtual design coordination and project management, which has thrown some challenges, but with that, some benefit too. In fact, I think we're operating more efficiently."
Discussing the future of NEOM, he added:
"It's reported that the ambition is to have a million residents by 2030. But the the ambition goes well beyond that. The backbone infrastructure, and the logistics of establishing the build for this, is something that's never seen before. We will be looking to have well over 150,000 workers just in the build of NEOM over the next five years."
Nicholas Reynolds, Director, Site Controls, Amaala looked closer at the latest trends to emerge from mega-projects in the country:
"Prefabrication and offsite methodologies will be important in building the structures that some of the world's leading architects are designing. And I think that the Kingdom is well-placed to bring on a local workforce that can be trained and digitized as well too, to participate and leave a lasting legacy. So, we're looking forward to being part of that."
---
Market Outlook - The future of construction - Altering processes & mindsets to thrive in the VUCA world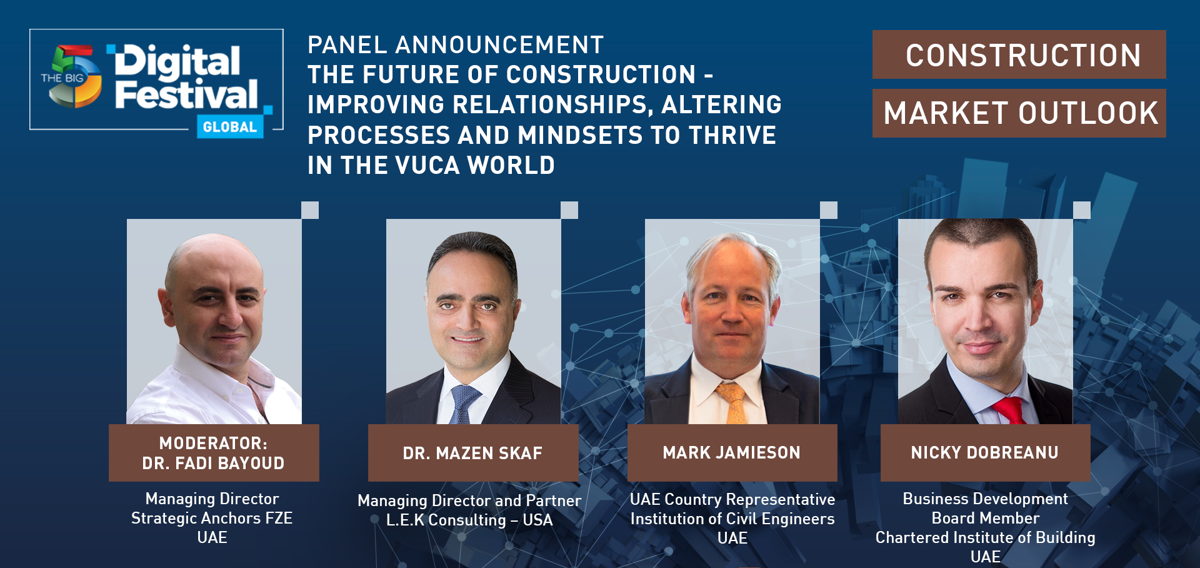 Dr. Mazen Skaf, Managing Director and Partner, L.E.K –USA pointed to trust building as being a key factor when minimizing risk and developing more sustainable relations between construction stakeholders:
"We need to move away from a transactional mindset in the construction industry, where people look for the lowest cost provider, maybe there is a big question as to whether they'll be able to fulfill the contract. They are committing to fulfill taking a long-term repeated interaction perspective rather than just a single transaction perspective.
No matter how well designed a contract is, if there is no trust between the parties, it's going to show up in various dynamics that will undermine the quality of the project and the overall delivery of the project."
Nicky Dobreanu, Business Development Board Member, Chartered Institute of Building – UAE showed great interest in supply chain finance systems as a way to combat cash flow challenges and the domino effect of late invoicing:
"I'm fascinated by a supply chain finance center. What you can do with supply chain finance is that you can just put the computers to work, having the data they can analyze, the payment history and the invoice behavior to understand and to predict some patterns. You can also use that to infer credit and spot fraud. You can also use it to say, "I'm not going to do business again with that contractor or with that client, because I know they're usually late with their payments".
"The main problem here in adopting SCF is cultural, and it's maybe relating to lack of training, different buyer, supplier objectives, lack of top management commitment and low suppliers interest rate. The cost of adoption is another issue."
---
Digital & Smart - How digital cities can boost economic growth & tourism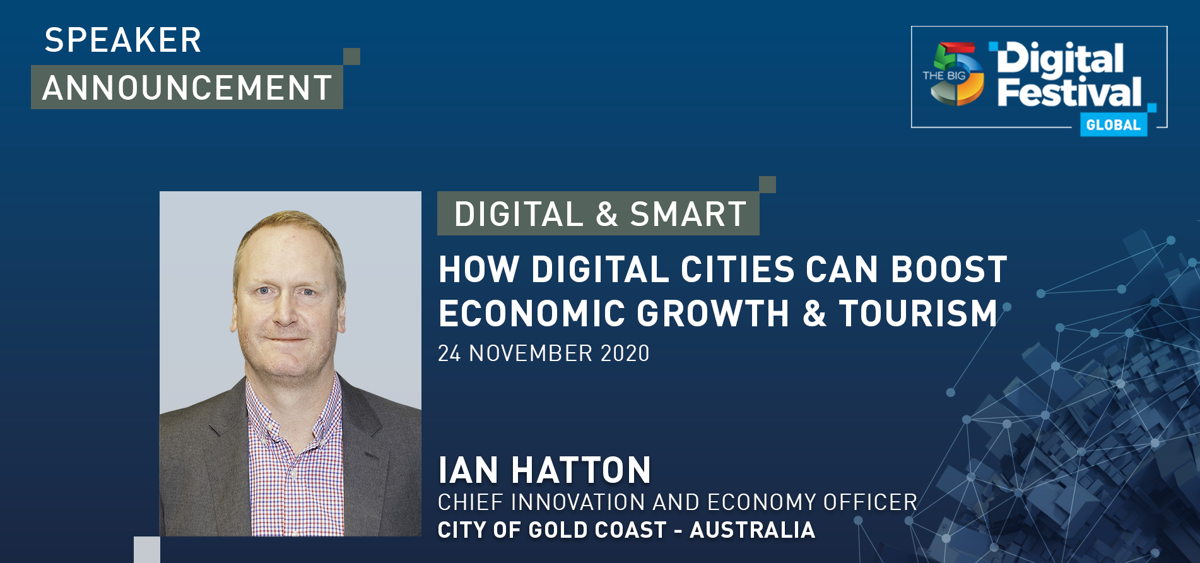 Ian Hatton, Chief Innovation and Economy Officer, City of Gold Coast – Australia discussed the benefits of digital cities on economic growth and tourism:
"In 2016, we created what we call the digital city program. We're trying to have a competitive advantage over other cities that offer the lifestyle and other features that the Gold Coast has. The compounding effect over time of growing above trend means that after five or 10 years, you should have a significant advantage."
"What we're really focusing on is growing the digital sectors of the economy; those could still be traditional sectors, but using digital technology, data, and us as a sort of a broker of that data without a vested commercial interest. The intersect for us of the digital city investment and the growth of the economy is about data and information, collaborating across industries to help people develop and grow successful businesses."
---
Facilities Management - Smart Facilities Management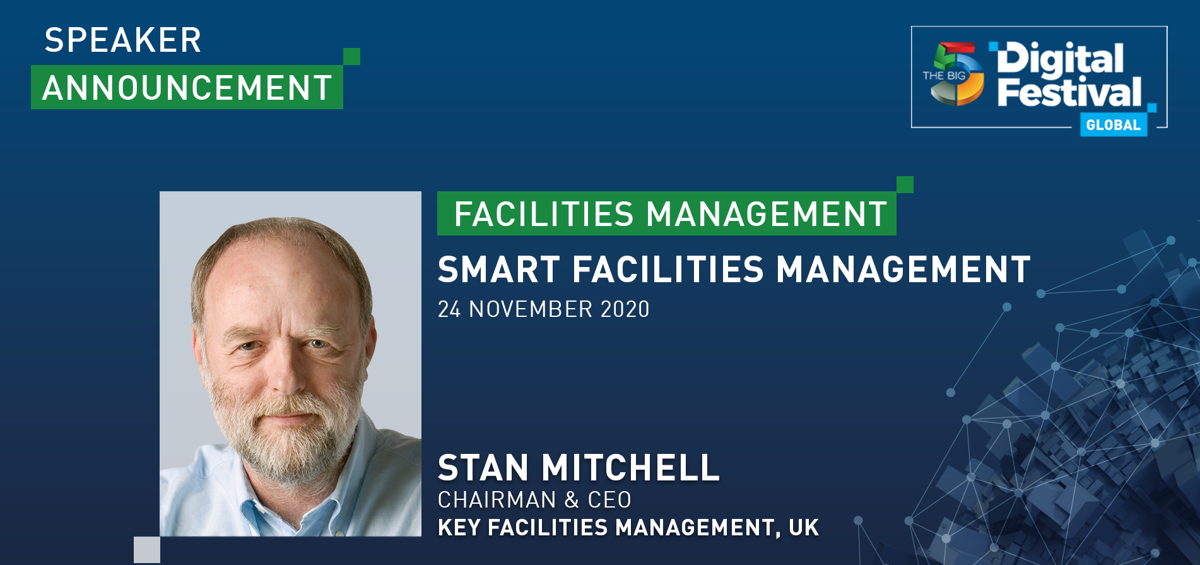 Speaking on the Facilities Management stream, Stan Mitchell, Chairman & CEO, Key Facilities Management, UK said:
"True FM is about strategic and tactical people-oriented management that should as well contribute to the sustainability of the organization, of the environment, and the health and safety of the communities that we serve. So, a part of our role in a true FM context is looking for gains towards efficiency and effectiveness."
"Smart FM is what's going to deliver real value to our economies, countries, to the people who occupy those facilities and to the people in the communities who have to live with the impact of how well, or how badly we manage those facilities."
"The industrial revolution 4.0 provides us with fantastic opportunities to take what's already there in terms of smart buildings, and to do much more. We can have smart FM and smart building systems, but what we actually need now is some smart people: FM is very much the new kid on the block in the built environment's professional sector, and we need to do much more about educating and providing support to the people who are in facilities management."
Access today's sessions on-demand HERE by registering or logging in The Big 5 Digital Festival platform.
---
More inspiring sessions will take place tomorrow at The Big 5 Digital Festival, such as:
- Anna Queralt Fuentes, Circular Design Engagement Manager, Ellen MacArthur Foundation | Speaking in 'Shaping urban life with circular design – how has the pandemic affected sustainability in construction?'
- Gary Clark RIBA, Principal & Regional Leader of Science + Technology at HOK and Chair of the RIBA Sustainable Futures Group | Sustainability reset – architecture to overcome climate crisis
- Gil Kelley, General Manager of Planning, Urban Design and Sustainability, City of Vancouver |Speaking in 'Learning from the leaders – sustainable cities of the future'
- Panel Discussion | Driving impact through diversity & inclusion
- Panel Discussion | Shaping urban life with circular design – how has the pandemic affected sustainability in construction?
- Panel Discussion | An overview of Egypt's booming Construction Industry
...and many more! Discover the full conference program HERE
---
Organised by dmg events, The Big 5 Digital Festival continues online from 11:00am to 6:00pm daily, from 23 to 26 November. Join the leading gathering of the global construction community HERE
Media Contacts:

Elisha Dessurne Content and Public Relations Manager, dmg events