NEWS FROM THE BIG 5 DIGITAL FESTIVAL- DAY 3
The third day has drawn to a close at The Big 5 Digital Festival, the leading online event for the global construction community. Running for one more day, until November 26, it gathers thousands of industry professionals from around the world, including representatives from over 500 construction brands, and more than 130 expert speakers from 23 countries.
Here's a selection of statements from leading experts, taken throughout sessions held at this special edition of The Big 5
(You can access all recordings on-demand by registering and logging in HERE)
Market Outlook: Driving impact through Diversity & Inclusion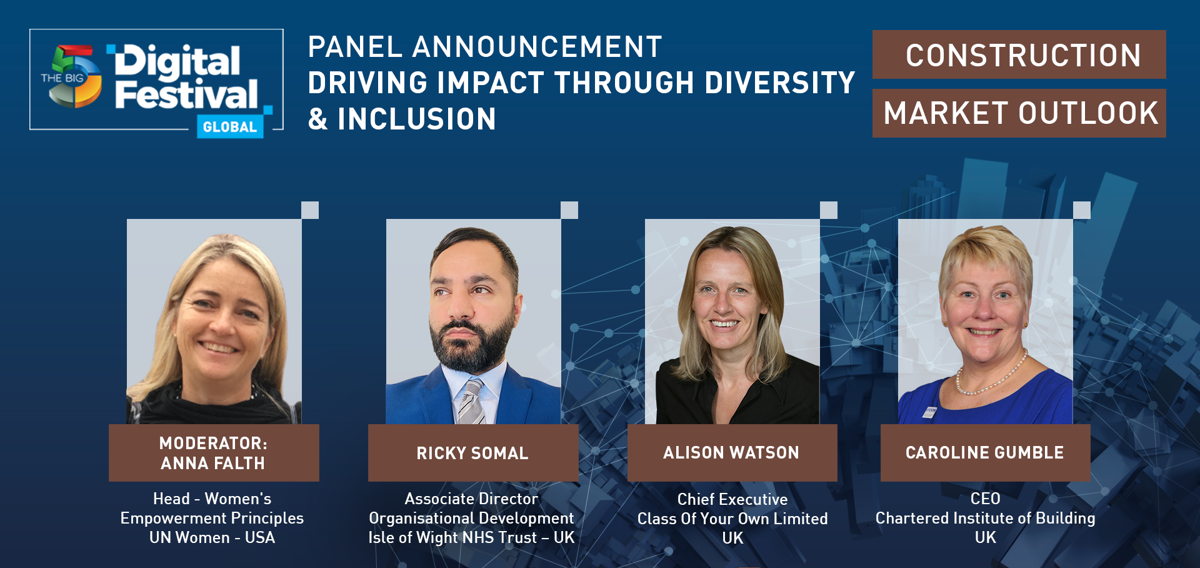 Alison Watson, Chief Executive, Class Of Your Own Limited – UK considered how many roles and disciplines fall within the construction industry, perfectly lending itself to diversity: ​
"In the construction industry we should be asking, 'What can the construction industry do for you?' Because I think we are an industry who has something for absolutely everyone in the world, it doesn't matter what you're into, what your hobbies are, what your specialisms are, what your sex is, what your religion is, what your background is. There's something for everyone."
Ricky Somal, Associate Director- Organisational Development, Isle of Wight NHS Trust – UK looked specifically at how organisations can begin to incorporate diversity and inclusion into their business:
"What we can do better is to start off by undertaking an equality, diversity and inclusion diagnostic within our organisations to really take an opportunity to review, reflect and re-focus our efforts on inclusion. Some of the critical elements I would focus on is to think about a multi-methods approach to diversity and inclusion, training, and development, looking at blended learning opportunities with a strong evaluation methodology to ensure impacts and benefits are realised while ensuring our equality, diversity and inclusion principles are considered within any packages that we deliver."
Caroline Gumble, CEO, Chartered Institute of Building – UK shared her thoughts on the rationale that should underpin D&I policies if organisations wish to have a workforce that represents these efforts:
"What I will say is, this is not an HR issue. It's core to any business to create a culture that works for everyone. It isn't about putting wonderful policies out and ticking boxes to say, "Oh yes, we've got a policy, we've got an EDI officer. We're ticking the boxes and doing the right things." It's genuinely listening and understanding and having zero tolerance of negative and poor behaviors from anybody in the organisation. Unless there's a genuine desire to actually create a very positive culture for everyone, whether it's a man or woman, any individual, then it's not really going to happen."
---
Architecture & Design: Sustainability reset - Architecture to overcome the climate crisis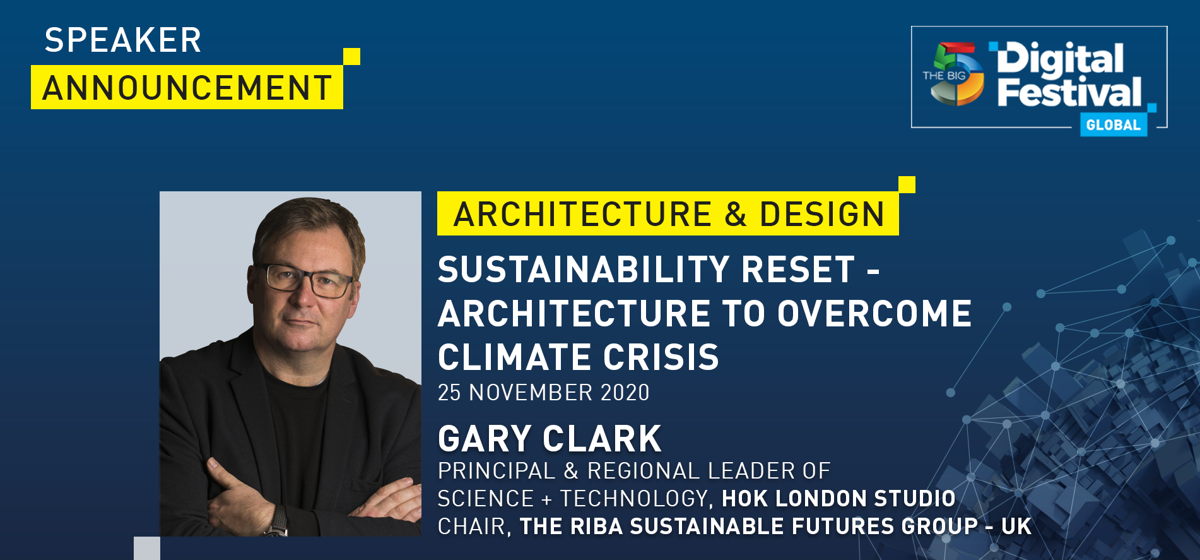 RIBA has developed the 2030 Climate Challenge to help architects meet net-zero (or better) whole life carbon for new and retrofitted buildings by 2030. In his session, Gary Clark RIBA, Principal & Regional Leader of Science + Technology at HOK and Chair of the RIBA Sustainable Futures Group – UK took audiences through the sustainability standards that support this challenge. Find out more about the challenge HERE.
Clark started the session by stressing the importance of tackling the climate crisis:
"If we take no action, then we're going to burst through the earth's capacity. I believe that we are actually beyond that now in terms of cycle, and we've got to work hard to reduce carbon emissions and flatten the curve to underneath our capacity to absorb what we do. And the next 10 years are critical."
Talking about when to adopt sustainability considerations, Clark insisted there is only one option:
"The first few months of concept design are critical – you either win or lose the sustainable battle at that point. You can't bolt on sustainability; it has to be embedded right at the heart of design."
When closing his session, Clark reminded listeners that before considering any new build, their first step should be to address all existing buildings and focus attention on retrofitting:
"Assist your existing buildings' clients to carry out postdoc evaluation; 20% energy saving could be done if we go back in and not only that, it's actually good for business relationship as well."
---
Sustainability: Learning from the leaders - Sustainable cities of the future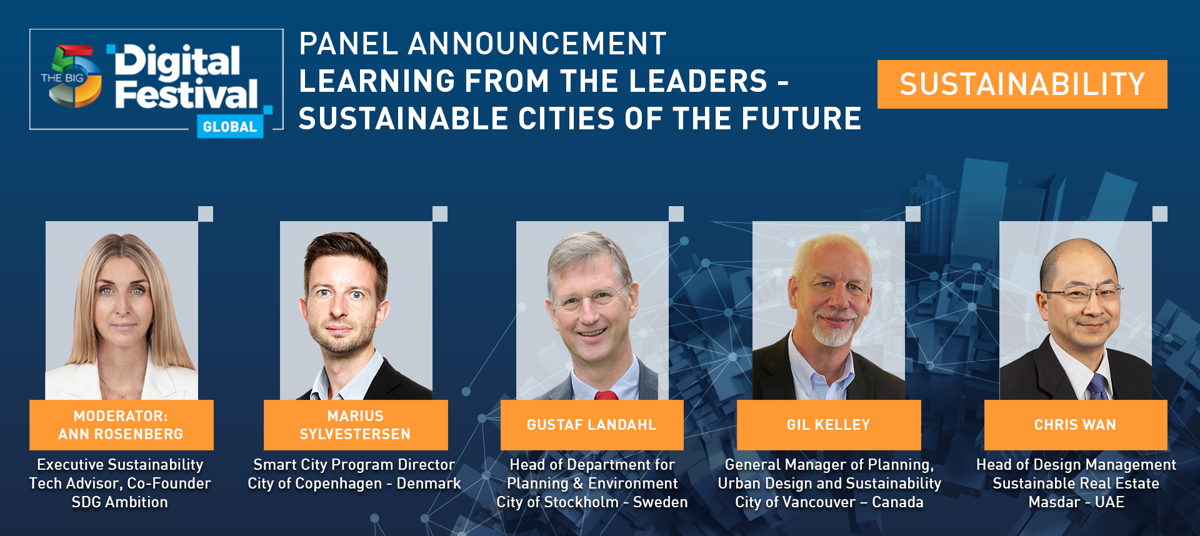 This panel discussion brought together a selection of global city planning stakeholders to shed light on leading examples of green transformation strategies in urban spaces from around the world.
Marius Sylvestersen, Smart City Program Director, City of Copenhagen – Denmark gave an example of focusing on targets that resonate with the general public, in this case, the monitoring of air quality throughout the city:
"Carbon neutrality for many people is a bit remote from their everyday life. It's a lot of difficult numbers and it's difficult to understand even for professionals. So we're trying to go from this very high level discussion down to the everyday life of ordinary citizens."
Sylvestersen went on to outline the importance of private partnerships in achieving success:
"We wouldn't want to plaster air quality sensors in the entire urban space of Copenhagen. So we started to ponder on whether it would be possible to make these sensors more mobile. So, so we actually formed a public-private partnership with Google. We used that [Google Street View] car infrastructure to mount sensors and measure air quality in each and every street in Copenhagen."
Gustaf Landahl, Head of Department for Planning & Environment, City of Stockholm- Sweden added that the use of partnerships is essential to help in developing city, and even worldwide, green strategies:
​
"It's important to scale up pilot projects, creating them into a wider use in our cities, and then also creating a market for different companies to use these solutions and export them and exploit them. So we work very much in private-public partnerships, but it's very much getting the industries to use our projects as showcases and to go even further. By doing so, we get a much higher leverage on what we've learned."
Chris Wan, Head of Design Management, Sustainable Real Estate, Masdar – UAE insisted that a collaborative team approach and extension of time deadlines to allow for idea development are key to overcoming new challenges faced when building green cities that meet the full 2030 agenda:
"We truly believe that moving forward, when dealing with all the sustainable development challenges, and even more so as we improve based on the COVID-19 period, the idea of collaboration is really important to us.
"Our unit itself has about 50 people, and that's 20 different disciplines sitting in a group in very small areas, and this creates a kind of lab atmosphere, where a lot of experimenting takes place with design."
Wan concluded that
"We are becoming experts at breaking barriers, design barriers, mindset barriers, habits, management barriers, all sorts of things."
Access today's sessions on-demand HERE by registering or logging in The Big 5 Digital Festival platform.
---
More inspiring sessions will take place tomorrow on the last day of The Big 5 Digital Festival, such as:
- H. E. Dr. Mansour Alturki, Deputy Minister for Planning & Information, Ministry of Transport | Speaking in 'The engineering & construction industry: Between skyscraping and the shifting sands'
- Andrea Piccin, Partner & Managing Director, GRS Research & Strategy | Voice of the Construction Industry Market Outlook
- Yewande Akinola, Innovation Lead, Laing O'Rourke | 'Remodelling the construction & infrastructure industry through technology'
- Panel Discussion |Agents of change – transforming how we build
- Panel Discussion | Remodeling the construction & infrastructure industry through technology
- Panel Discussion | Building smart & resilient cities – adapting to the new normal
...and many more! Discover the full conference program HERE
---
Organised by dmg events, The Big 5 Digital Festival continues online from 11:00 am to 6:00 pm until tomorrow, 26th November. Join the leading gathering of the global construction community HERE
Media Contacts:

Elisha Dessurne Content and Public Relations Manager, dmg events