NEWS FROM THE BIG 5 DIGITAL FESTIVAL- DAY 4
The end of the fourth day at The Big 5 Digital Festival concludes the successful online edition of The Big 5 in 2020. Featuring networking, product showcases, and knowledge sharing between thousands of industry professionals from around the world, it hosted representatives from over 500 construction brands, and more than 130 expert speakers from 23 countries.
Take a look at your final round-up of statements from leading experts, taken throughout sessions held at this special edition of The Big 5
(You can access all recordings on-demand by registering and logging in HERE)
Digital & Smart: Agents of change - Transforming how we build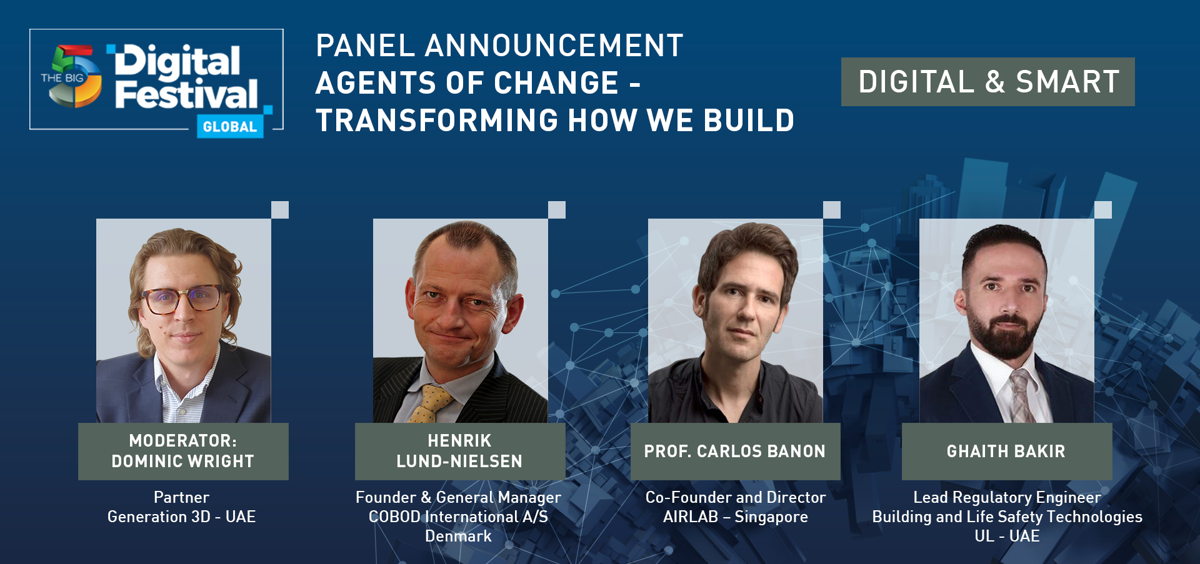 Henrik Lund-Nielsen, Founder & General Manager, COBOD International A/S – Denmark was the first of the panel to speak, immediately looking at why the adoption of 3D printing is slow in the Middle East when compared to Europe. He pointed to more long-term thinking as the solution:
"People need to have a long term view of this technology. We see a lot of people wanting to buy printers and then make money straight away on the first build. Like this, it will always be very difficult to be competitive for the technology, because there's so much perceived risk with new technology. That means that everyone involved, from the structural engineers through to the architects, ​ actually charge enormously for their services related to 3D construction printing. When you then take these additional high costs because of risk, and you allocate them on one single building, obviously that building becomes horrendously expensive.
"So we need to have projects where you allocate the technology on 20, 30, or 40 buildings. Competitiveness will then show itself."
Ghaith Bakir, Lead Regulatory Engineer – Building and Life Safety Technologies, UL – UAE, spoke heavily about the recent UL 3401 code when addressing how to mitigate the perceived risk of 3D printing:
​
"The UL 3401 evaluation for 3D construction itself is going to be adopted in the International Residential Code in the 2021 edition. This would provide the authority, code officials, or the building officials, the confidence to approve this kind of buildings. They will have a report where it specifies the material that's being used, the process, the fabrication, the evaluation, and all the testing matched with the requirements.
This way you're giving [decision makers] a report of findings where they can at least understand what this building has, instead of just throwing everything to them, and they have no idea about those kinds of materials and how they are going to behave in the future."
Prof. Carlos Banon, Co-Founder and Director, AIRLAB – Singapore closed the session by looking forward to the immense possibilities that would be available to designers once the regulatory framework is mature across different markets:
"3D printing opens so many possibilities right now. We find a completely different way to think of designing buildings. So now, the designs we make using digital design tools to create more performative, more adaptable, and lighter buildings, can be actually fabricated with 3D printing components.
​
​"10 or 15 years ago, we were able to model any geometry, but it was very difficult to fabricate it. Now we can do it. So actually this allows us to really create those designs that perform in a more efficient way, that can be more adapted and can actually perform better. So 3D printing is definitely the way to go."
---
Sustainability: Case study - Circular economy efforts by the city of Phoenix, Arizona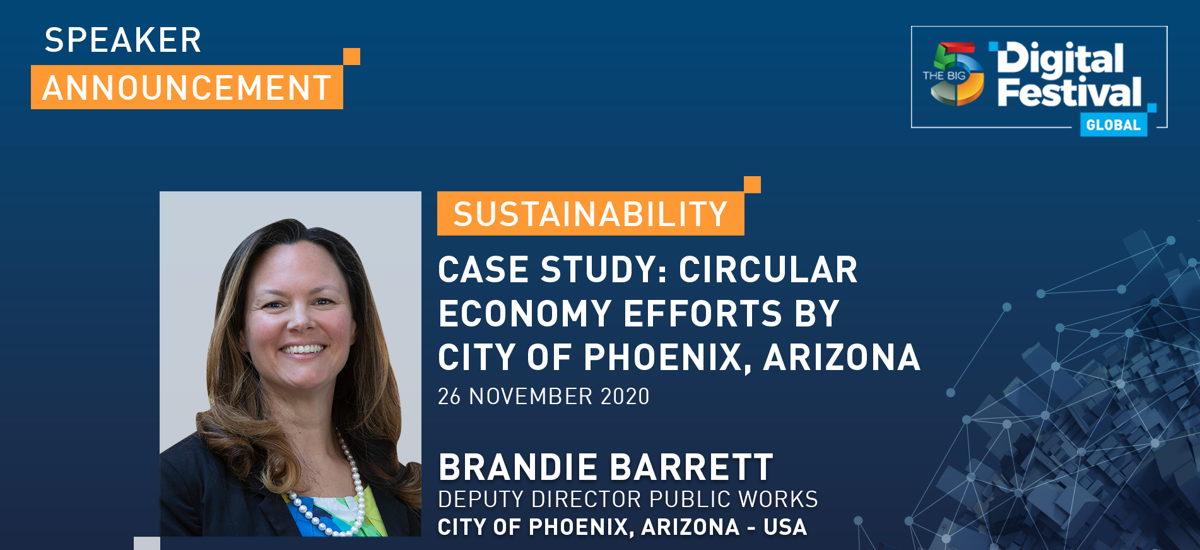 Brandie Barrett, Deputy Director Public Works, City of Phoenix, Arizona – USA started the case study session by explaining why the City of Phoenix first looked into a circular economy strategy:
"We knew there were items in the waste stream that had value that were just sitting in the landfill or on their way to the landfill that could be redeployed back into the economy, but there just didn't exist an economically viable alternative to get them there. And so our push was to create an incubator, and accelerator to help those emerging startups help solve those problems."
The Reimagine Phoenix initiative launched as a result in 2013, designed to increase the city's waste diversion rate to 40 percent by 2020 and to better manage its solid waste resources. Now at that deadline, Barret provided insights into the latest figures:
"The incubator has had tremendous success working with 19 distinct clients and 246 mentoring and coaching sessions with experts from every industry. It launched 25 new products, and businesses that participated were able to re raise almost $4 million in capital, and sell $4.41 million on their business side."
When it comes to challenges, she insisted that embracing barriers is key:
"Don't be risk averse, take some risks, welcome challenge, welcome shortcomings, and really use them as learning opportunities. You have to be prepared to pivot and make changes to your strategy. Things are going to pop up; communicate the positives, and the progress, and even the obstacles that you're overcoming and how you're going about doing that."
---
Digital & Smart: Remodelling the construction & infrastructure industry through technology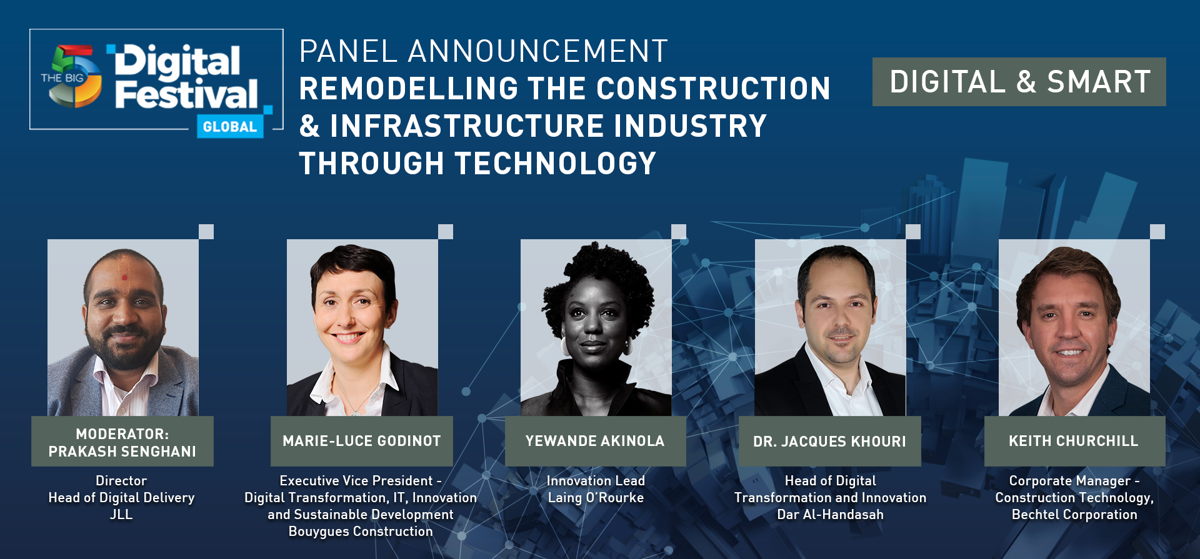 In the session, panelists covered the benefits of data, improved cost forecasting, opportunities to capture ideas on a central platform, and cybersecurity, among other benefits and risks that lay in store for construction as it converges to digital.
Dr. Jacques Khouri, Head of Digital Transformation and Innovation, Dar Al-Handasah, stated:
"In construction, data is the new currency; the more data you have, the better you manipulate it, the more knowledge you will have, the less interrupted operations you will have for the facility, and then you will have more customers, more clients, more passengers; whoever is dealing with the building, will be happier and more comfortable.
Yewande Akinola, Innovation Lead, Laing O'Rourke, commented:
"Right at the heart of current conversations, is price fixity from the client. The client wants to know what the price is and be fixed on that price very early on, right? Our margins aren't great as an industry, but if we can really leverage technology to be able to give the price fixity that we absolutely need for ourselves and for our clients, I say, 'bring on the technology'."
Marie-Luce Godinot, Executive Vice President - Digital Transformation, IT, Innovation and Sustainable Development, Bouygues Construction said:
"Previously, it was very difficult in our industry to capitalize on ideas and learnings from one project to another project. You always had to fill in forms or to make some papers and people onsite don't want to do that because at the end of the project, they already are on another project. They don't have time to do that. With this digital platform, and not only digital twin, you have the opportunity capitalize the way we have been working, not only the building we are doing right now."
​
Keith Churchill, Corporate Manager - Construction Technology, Bechtel Corporation said:
"I think that the risk of a cybersecurity breach on the operational technology is something that's really undervalued by the whole industry, whether it's our clients, whether it's us, or whether it's our suppliers. I think that really what it comes down to is as we take this next step into the wireless cloud-based solutions, we're opening ourselves up for a safety incident or some kind of an event that could really cause personal harm or to the facility or to the environment.
"We need to protect ourselves, and we need to take measures in order to understand how to do that."
Access today's sessions on-demand HERE by registering or logging in The Big 5 Digital Festival platform.
---
The next edition of The Big 5, the global hub for the construction industry, will return in 2021 with a safe face-to-face event at the Dubai World Trade Centre, from 12-15 September.
For more information and for updates about the event, visit: www.thebig5.ae
Media Contacts:

Elisha Dessurne Content and Public Relations Manager, dmg events