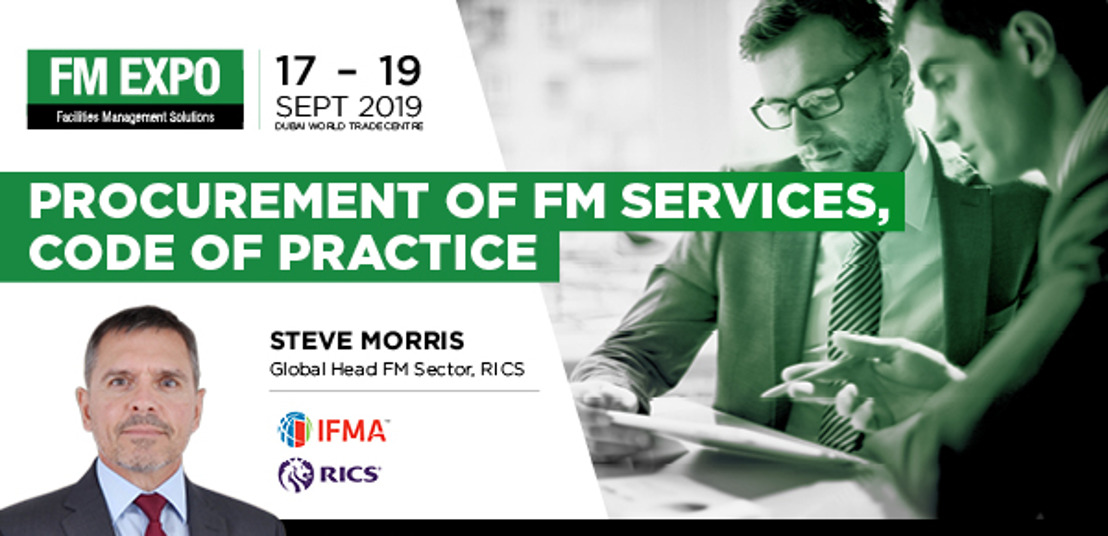 RICS SHED LIGHT ON UPCOMING GLOBAL CODE OF PRACTICE FOR FM PROCUREMENT
RICS plan to release late 2019, early 2020 after the completion of consultation phase which concludes mid-September 2019.
In a webinar hosted by FM EXPO, the Middle East's leading Facilities Management event,Stephen Morris, Global Head of FM at the Royal Institution of Chartered Surveyors (RICS), provided industry professionals with a sneak peek into the RICS Global Code of Practice for Procurement of FM Services. RICS plan to release late 2019, early 2020 after the completion of consultation phase which concludes mid-September 2019. This is open to the industry via the following link:
https://consultations.rics.org/consult.ti/ProcurementFM/consultationHome
RICS, a global organisation that qualifies and regulates professionals across the built environment, will release their Code of Practice on the 'Procurement of Facility Management' for the global FM industry. The Code of Practice provides an addition to the suite of standards and guidance produced through its collaboration with IFMA that includes the Strategic FM Framework.
Stephen Morris, RICS Global Head of Facilities Management said: "With the procurement-specific Code of Practice, our aim is to deliver standards and guidance that are acceptable for both members and non-members not only in the UK, but across the world."
He adds: "With so many facility management associations around the world, the industry is suffering from increasing fragmentation. If we could get all these organisations working off one set of standards, then we gain better integration and ultimately drive forward the sector."
Committed to providing a common approach across the FM industry, Morris also ensures that the upcoming Code of Practice uses common FM language to ensure that "it compliments, rather than conflicts with other standards such as ISO terminology for FM." And recommends that the code should be used in conjunction with the Strategic FM Framework which is an RICS guidance document.
Morris reveals that the final document will include key principles in the procurement of FM, guidance on decisions to be made before going to market, support on procurement strategy such as route to market and submission requirements, as well as post procurement essentials such as contract management.
As defined by RICS, procurement is the process of finding and agreeing to terms, and acquiring services from an external source. The client therefore may be working outside of their comfort zone, making it even more important for FM providers to set standards that adhere to accountability, consistency and transparency.
Morris concludes: "Do not underestimate the importance of developing a good relationship between client and supplier as it may be critical to achieving strategic and operational objectives."
Stephen Morris will speak more on professional standards and qualification during his panel appearance at FM EXPO 2019 on 18 Sept. Visitors at FM EXPO will be able to profit from over 40 free-to-attend and certified FM Forum talks on offer throughout the event, which will run in Dubai World Trade Centre Arena from 17-19 September 2019.
FM EXPO, now in its 14th edition, will return under the theme 'Transforming the Facilities Management Landscape', in response to reports that the local market is due a rapid shift in direction. Exhibitors already signed that will showcase their latest products at FM EXPO 2019 include Ejadah Asset Management Group, Boecker, FSI Limited, ZOLL, Evac+Chair and Dussmann Service Middle East.
Over 70% of last year's attendees planned to return to this edition, which is organised by dmg events and is sponsored by Inspire Integrated, Serve U and Tafawuq Facility Management.
Show Related Images: https://press.fm-expo.com/media