SPEAKER INTERVIEW: DR. GEOFF NESBITT
In talks with Dr. Geoff Nesbitt, Chief Executive Officer, Verditek
The Big 5 Solar hosts Dr. Geoff Nesbitt as one of the event's speakers at the 3rd edition of the show. Titled "Safe sustainable secret solar PV", Dr. Nesbitt's workshop takes place on November 28 at 12:00-12:45 hrs.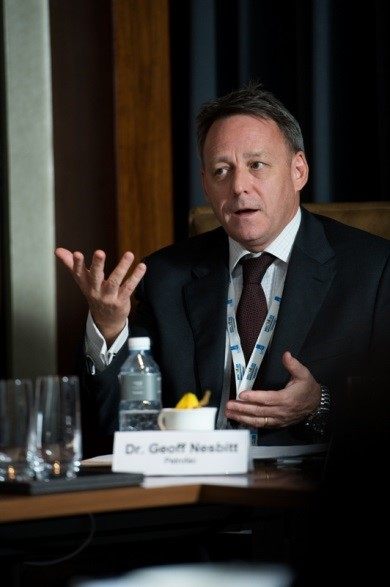 Here's what Dr. Geoff Nesbitt, Chief Executive Officer at Verditek, revealed to us ahead of the event:
Is PV Solar power really sustainable?
When considering sustainability of any product, one needs to look at its entire life cycle, including the origin of the materials, the shipping logistics (how far and efficiently have they traveled), and the end of life or recycle/upcycle of the material after the primary utilization.
A VSI PV module comprises similar materials as a conventional panel, but without glass or aluminium it avoids the CO2 footprint associated with making and sourcing those materials, which is substantial. Our PV modules are less than 3mm thick and weigh less than 3kg/m2, making them easier to flat-pack and lighter to ship, consuming less energy to send them to site.
Being light and semi-flexible, depending upon the application, we require little to no framing to install, reducing or removing the CO2 footprint of those materials too. Since we use high quality mono-silicon wafers, we harvest the same power per m2 that a conventional panel can, with an extremely low CO2 footprint.
Finally, in recycling a VSI panel there are few materials to be processed; the polymer can be gasified to provide energy (WtE) and the silver busbars and SiO2 glass can be recovered and recycled.
What is a VSI solar panel?
A VSI solar panel is a robust polymer laminate surrounding mono-silicon PV wafers, utilizing up to 22 ribbon-wires to harvest power and provide increased safety. Our modules are less than 3mm thick, weigh less than 3 kg/m2, and are easier to install than conventional PV modules.
What are the applications available and the advantages of using VSI solar panels?
VSI PV panels do not compete with conventional utility market panels but go where conventional panels cannot. Typical applications (to name just a few) are found in:
1. Industrial warehousing, which use pre-engineered roofing that has a load bearing limitation of around 7-8 kg/m2;
​2. Military and peace-keeping forces that must use diesel fuel (at > 20 $/liter) and risk lives to provision their camps;
​3. Holiday, recreational homes, and caravans that wish to be self-sufficient and cannot bear the load of a conventional panel (>20 kg/m2);
​4. Transportation of perishable goods where low-profile PV applied to trailers can reduce or remove diesel emissions and fuel costs.
How does VSI Solar make renewable energy accessible?
VSI panels compliment the conventional solar industry, allowing renewable energy to be applied where it otherwise cannot. Owners and operators in industries that want to reduce their reliance on the hydrocarbon industry and save money while doing so, now have a product that can change their business.
Why is it important for events such as The Big 5 Solar to offer free education to construction professionals?
Learning and professional development is at the core of every successful business and industry. Ignorance wastes money and misses opportunities. The Big 5 Solar makes learning fun and accessible to a wide range of construction industry professionals.
About Dr. Geoff Nesbitt -
Geoff began work as a research fellow with ICI Chemicals, followed by 22 years with Shell, in research, development and management roles, in five different countries. Executive business education was acquired at IMD, followed by a start-up in the pet-chem and pharma business. In 2010 he joined Petrofac in the UAE as their first Director of Technology where he was responsible for evaluating investment opportunities. In 2018 Geoff became CEO of Verditek, a company manufacturing extremely lightweight semi flexible solar PV technology. Verditek PV modules are around 3 mm thick and weigh less than 3 kg/m2, making them safer, easier to install, and with a significantly smaller carbon footprint than conventional solar PV.
You can hear more from Dr. Geoff Nesbitt on "ESafe sustainable secret solar PV" at The Big 5 Solar Talks on 28th November, 12:00-12:45.
​SEE FULL AGENDA