SPEAKER INTERVIEW: KHALIL MECHANTAF
In talks with Khalil Mechantaf, Senior Associate, Kennedys
The Big 5 Solar hosts Khalil Mechantaf as one of the event's speakers at the 3rd edition of the show. Khalil's workshop takes place on November 26 at 12:00-12:45 hrs and he will be speaking on "EPC contracts in the energy sector in the GCC – An overview"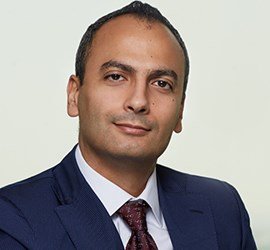 Here's what Khalil Mechantaf, Senior Associate at Kennedys, revealed to us ahead of the event:
Are the Middle East's contractors equipped to construct new energy projects?
Despite fierce competition, Middle East contractors have shown the resilience and expertise required to run and operate large-scale construction projects, not just energy projects. Commonly found in midstream and downstream energy, such as oil and gas, or even in power plants and water projects, Middle East contractors have demonstrated over the past decades their commitment to the region and more importantly, have adapted to difficult and changing market conditions. However, there are two pressing dynamics that may transform the energy apparatus in the Middle East. The first is the rising demand for renewable energy, itself a highly sophisticated industry with yet little understanding over its bankability and costs of operation and maintenance. The second is the China Belt and Road Initiative and its impact on the UAE and region. The presence of Chinese contractors brings a new breed to the table, offering experience, resources and costs savings. To survive, Middle East contractors must consolidate their experience in key energy sectors and restructure their operations in the various stages of a project's lifecycle so as to promote efficiency and effectiveness.
What is a model EPC contract?
An EPC contract is a single point responsibility contract requiring of the contractor a turnkey scope of work with guaranteed performance parameters and completion date. A model EPC contract minimises various contractor's cross claims for delay and disruption, performance shortfall and damages for termination. It contains a defined scope of work, usually with warranties that contractor will do all works that are otherwise necessary, having regard to the agreed performance requirements. On the other hand, the owner's obligations are relatively limited to generating licenses and approvals, providing access to site and plant, making available gas, water and fuel.
"Stipulating a performance regime is a significant issue for EPC contracts in the energy sector." Please comment.
A typical performance regime includes the performance guarantees representing the actual levels of performance in relation to generating capacity, quality and emission standards that the owner requires. It also includes the minimum performance standards that the owner is prepared to accept in relation to generating such capacity and emission standards. A contractor's ability to strike the balance between the two is crucial, as it limits its exposure to liquidated damages and owner's refusal to pay for non-compliant work. A balance of the two is also important from an owner's perspective to ensure prompt and proper delivery of works following successful performance testing and commissioning.
How can each contract be managed and held responsible for the delivery of its works and, ultimately, the success of the project?
Proper communication, project management and contract understanding are key for the success of any project, not just EPC based projects. However, in current market conditions, one of the key reasons for projects' failure is the shortfall in financial resources. It is, therefore, essential for both parties to a contract to ensure that the required resources are available before committing to any project. Risk allocation has a positive financial consequence on contractors, especially if two or more contractors are ready to partner together for the delivery of a project. Most financial shortfalls happen at the beginning of a project. Therefore, having the required performance bonds and guarantees is important to ensure the contractor's commitment to deliver. On the other hand, a contractor must identify (and mobilize) the required equipment and resources once all permits are in place and the full advance payment has been made.
What are the 3 things power and energy companies should know about EPC Contracts?
1. Have a single point of responsibility
​2. Are expensive and usually on a lump sum turnkey basis
​3. Provide certainty for lenders (but not always)
Why is it important for events such as The Big 5 to offer free education to construction professionals?
The Big 5 talks are extremely popular and usually generate an intellectual discussion over pressing issues affecting the construction market. They are freely accessible and should remain so for all construction professionals, given the benefit they bring in raising awareness and understanding on the fundamentals and latest developments in the industry.
About Khalil Mechantaf -
Khalil Mechantaf is a Senior Associate in the Dubai office for Kennedys. He is dual-qualified in Lebanon (Beirut Bar Association) in 2009 and as a Solicitor in England and Wales in 2017. Khalil has a PhD in Law and is a Member of the Chartered Institute of Arbitrators. Khalil has over ten years of experience in dispute resolution and international arbitration. His practice focuses on contentious and non-contentious construction and energy projects. He regularly acts as counsel in arbitrations under the ICC, DIAC, DIFC-LCIA and SIAC regimes. He has acted for both developers and contractors, specifically in the infrastructure, power, water and pipelines related disputes in the Middle East and Africa. He also advises clients during the life span of a project on quantum and delay claims. Khalil is a member of the Society of Construction Law (UK) and the Association of International Petroleum Negotiators.
You can hear more from Khalil Mechantaf on "EPC contracts in the energy sector in the GCC – An overview" at The Big 5 Solar Talks on 26th November, 12:00-12:45.
​SEE FULL AGENDA