SPEAKER INTERVIEW: SULEIMAN AL DABBAS
60 seconds with Suleiman Al Dabbas, Quality and Excellence Specialist, Smart Dubai Government Est.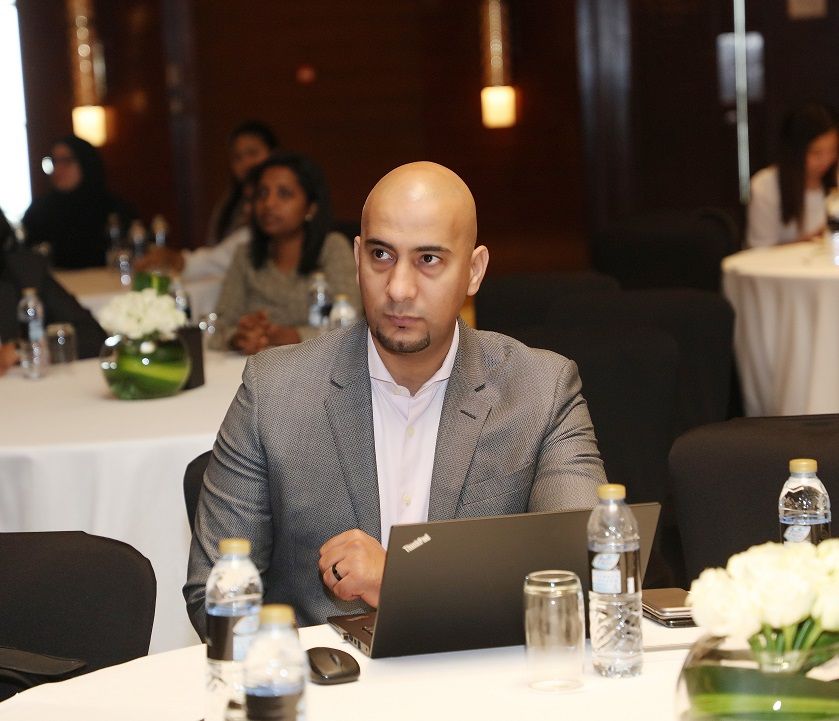 Suleiman Al Dabbas will be speaking at Windows, Doors and Facades Event next September. He shared with us some insight on the latest blockchain technology;. He is the Quality and Excellence Specialist, Smart Dubai Government Est. and will be talking on Quality in the Digital Government World at the Facade Seminar series.
What is a digital government?
Explores how governments can best use information and communication technologies (ICTs) to embrace good government principles and achieve policy goals. Provide government services through digital channels (e.g. Internet, Mobile, Kiosk) or automated systems.
What is block chain technology and how will it impact the construction industry?
A blockchain is a decentralized, distributed and public digital ledger that is used to record transactions across many computers so that the record cannot be altered retroactively without the alteration of all subsequent blocks and the consensus of the network.
Construction brings together large teams to design and shape the built environment. With technology and in particular Building Information Modeling (BIM) becoming more widespread, openness to collaboration and new ideas is increasing across the industry. This momentum could be leveraged to bring the use of blockchain technology to the fore.
The four potential uses of blockchains are:
Recording Value Exchange

Administering Smart Contracts; Smart contracts would have instructions embedded in a transaction so that unless the instructions are fulfilled, there is no payment. This ensures all parties are happy and that no one is having to chase people for payment, virtually eliminating payment disputes. The smart contract is visible to all users in the blockchain, so there's no question about what the terms are and what instructions need to be followed.

Combining Smart Contracts to form a Decentralised Autonomous Organisation (DAO)

Certifying proof of existence for certain data (for instance, providing a securely backed up Digital Identification)
What role does block chain technology play in UAE's climb towards a global digital government?
So for this, let's take Dubai blockchain strategy as example: Dubai will be the first city fully powered by blockchain by 2020.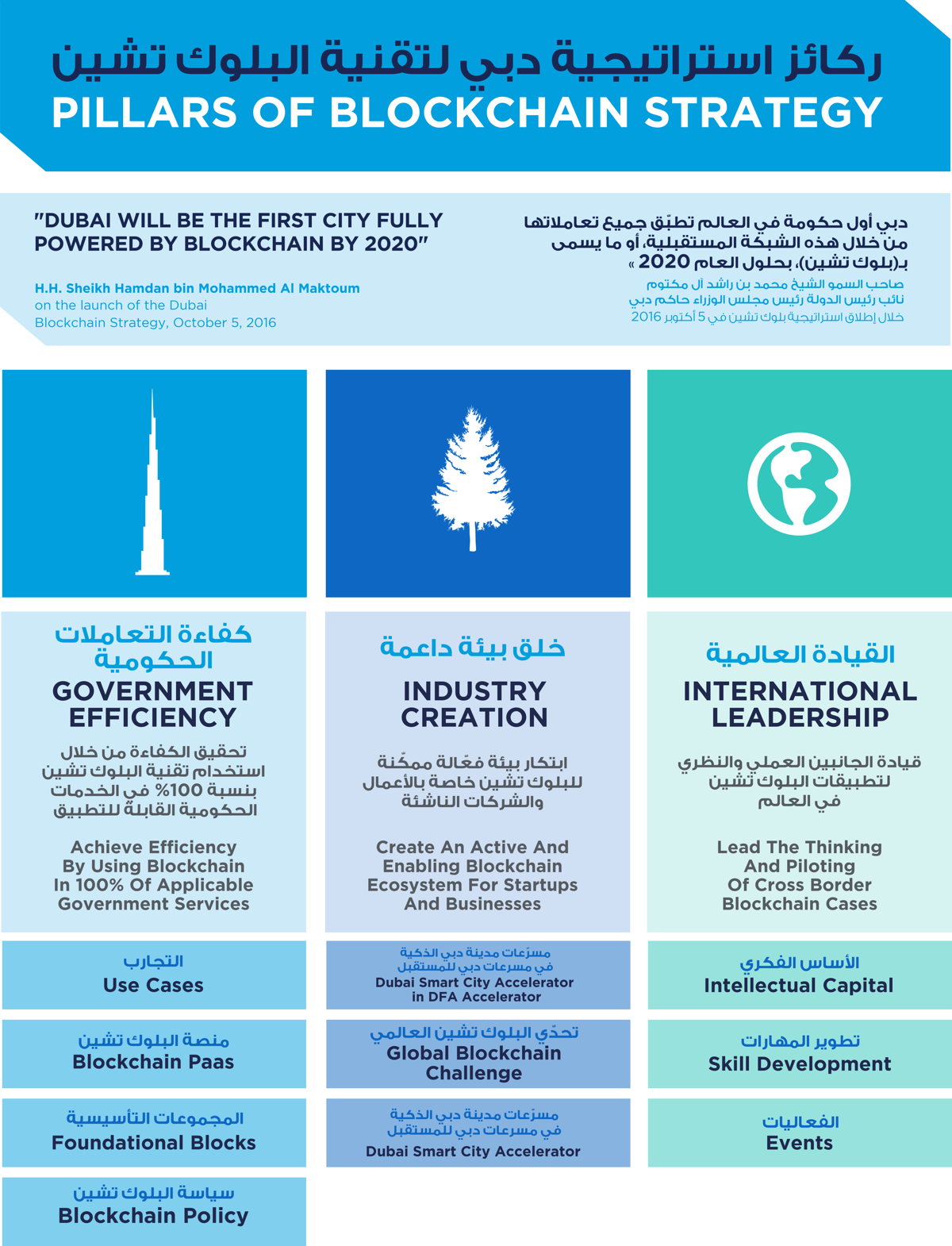 Today, Dubai is amongst the world's leading smart cities in its adoption of new technology and pioneering of innovative smart pilots. Recognizing the potential impact of the blockchain technology on city services coupled with a worldwide blockchain adoption trend that saw $1.1 billion invested by the private sector in blockchain technology in 2016 alone, Dubai launched a city wide blockchain strategy in October 2016 with the objective of becoming the first blockchain powered city by 2020.
Dubai's adoption of blockchain technology at a city-wide scale comes at a time when the technology is increasingly being recognized as the ultimate trust machine. Blockchain eliminates the need for trusted third parties in transactions, an attribute which would contribute significantly to simplifying Dubai Government's evolving processes.
A detailed roadmap that is organized around the blockchain strategy's three pillars has been developed. This roadmap defines the way forward for Dubai's blockchain ambitions.
For each pillar in the strategy, the city has a plan with actionable initiatives:
​1. Government Efficiency
​2. Industry Creation
​3. Thought Leadership
​4. How is blockchain changing the world?
Its clear blockchain will change the world because of four key issues it addresses:
Decentralization: The core advantage of blockchain technology is that it does not require a traditional centralized organization. The distributed system of blockchain does not depend on point-to-point transactions, coordination, and collaboration of a credit center in a distributed system, thereby avoiding the prevailing problems of data security, coordination efficiency and risk control of centralized organizations.
Transparency: By blockchain technology, data is difficult to tamper with. The database for recording transactions can be accessed by anyone. Through this transparent and open mode, everyone can act as a supervisor. What changes in data can be easy-to-read and are more secure than traditional Internet technologies.
Data security: The blockchain technology is connected with multiple nodes in different places. The nodes in the blockchain interact via a point-to-point communication protocol. Different nodes can be used by different developers in different programming languages and in different versions of full nodes under the conformance of communication protocols. Simply put, when a node encounters with network problems, hardware failures, software errors, or is controlled by hackers, the operation of other participating nodes and systems will not be affected. So blockchains are more reliable than traditional technologies.
Low cost: Because the blockchain is decentralized, whose systems are maintained by all the participants, there is no need to pay a certain cost for the central management and supervision of third-party agencies. Coupled with the support of a wide range of development cooperation in different places, blockchain technology is a new low-cost, high-efficiency collaboration model.
What can visitors expect to learn at your session?
Visitors can learn about quality in digital government, use and benift of blockchain and Smart Dubai initiatives.
About Suleiman Al Dabbas -
A Quality/Excellence specialist, with over than 10 years of proven track record of excellence practices and awards. I've demonstrated competence in a wide range of best practices in Organizational excellence, quality management and smart transformation. Lead Auditor, ISO 9001:2015 Quality Management System - EFQM Excellence Assessor - Certified Train Of Trainer (TOT) - Lead Auditor, ISO 22301 Business Continuity system - Smart Transformation Assessor - Certified Creative Leadership & Innovation.
​Area of Expertise:- Manage Excellence and Quality projects including assessment, drafting reports, implementation, training.- Update/Manage and Control of Quality management systems according to ISO standards ISO9001:2015 including: documents control, Procedures, Quality awareness sessions, risk management, operational KPIs and customer satisfaction. - Smart Transformation Assessments for Dubai Government Entities based on excellence models issued by Smart Dubai Gov. for: websites, Smart Services and applications. - Facilitate workshops & training courses and prepare of training materials for many courses that have been delivered to governmental and non-governmental organizations in UAE, Saudi Arabia and Jordan, in the fields of management and organizational excellence, strategic planning, quality, financial management and others.- Awards: work with the concerned Dept. on the submission documents preparation for national and international awards, final review of documents and submission process. Sample of winning awards: Stevie Award - .Gov Award - World Smart City & Expo Award - Smart Government Excellence Award - HR Excellence Award - GCC Gov. HR Award - Telecom Review Excellence Award.- 4th Generation Excellence system implementation, assessment, training design and delivery. - Conducted several audits as a Lead Audit for ISO 9001.