THE BIG 5 TO LAUNCH MAJOR NEW CONSTRUCTION INDUSTRY REPORT
The Big 5 research has revealed representatives of the UAE's construction industry most satisfied when rating the performance of their company
60% of respondents expecting to see an increase in their company's turnover this year
The full report will be launched on the opening day of The Big 5, at the inaugural CEO Forum
The Middle East's largest construction event, The Big 5, which takes place from 25 – 28 November, will launch its first Voice of the Construction Industry Report during the opening day of the conference.
The inaugural report, which is based on a survey carried out by GRS Research & Strategy Middle East, in conjunction with The Big 5 represents the views of 5,951 senior construction industry professionals, based in 136 different countries, making it the largest of its kind.
"This report has been made possible by the size, strength and standing of The Big 5, which celebrates its fortieth anniversary this year," said Josine Heijmans, Portfolio Director at dmg events.
"We've used our event's market reach to speak to the entire construction industry value chain, from manufacturers and distributors through to contractors, engineers, architects and consultants, the findings are relevant to anyone whose work intersects with the construction industry," added Heijmans.
The responses have been segmented by business type, seniority, geographic location, and company turnover, allowing for a detailed analysis of the issues influencing each sector and how they are shaping the industry.
The Voice of the Construction Industry Report will be unveiled at The Big 5's invite-only CEO Forum, a conference for 150 CEOs from the region's leading construction firms.
The findings of the research included:
The UAE has the highest percentage of companies given 5 out of 5 (26.8% of the total) by respondents asked: "How satisfied are you with the current performance of your company?", with the country ranked number one by average score. By that same average score measure, European organisations came in just behind, with 25.3% given 5 out of 5.

Some 60% of respondents are expecting to see an increase in their company's turnover this year. Manufacturers and technology providers lead the ranking in terms of business types that expect to see an increase.

In every region considered, more than half of the companies expect the turnover to increase; across Africa (excluding South Africa), 74.8% of companies are expecting growth.

Energy efficiency, prefabrication, and sustainability are the three biggest trends influencing the industry.

More than 45% of the survey respondents are C-suite executives or business owners.
A preliminary edition of the report is available for download, offering a preview of the report's findings on the mood and outlook for the entire construction sector. The report can be found https://www.thebig5.ae/lp/industry-report/
---
Price and availability
The Voice of the Construction Industry Report launches on the opening day of The Big 5 in Dubai, Monday 25 November 2019.
At The Big 5, for the duration of the event, which runs until Thursday 28 November at the Dubai World Trade Centre, the report will be available to purchase the special exhibition price of $250.
Online, during and after the event, copies of the report will be available for $750.
To download the preliminary edition of the report and to reserve a copy of the full report, please visit https://www.thebig5.ae/lp/industry-report/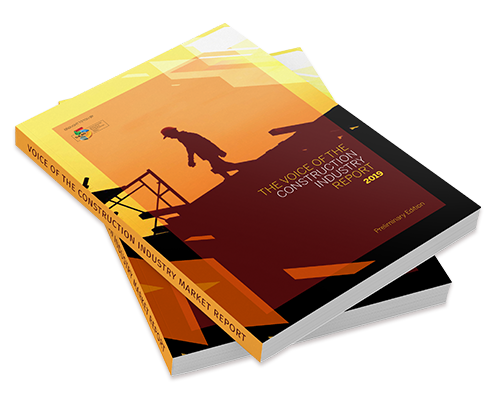 Contact: