THOUGHT LEADERS SERIES: BENJAMIN PIPER
The Partner and Design Principal at Killa Design, Benjamin Piper, is one of the much-anticipated speakers at the Future of Facades Summit presented by the Windows, Doors & Facades Event 2019
The Windows, Doors & Facades Event (WDF), the largest event dedicated to the windows, doors and facades industry in the Middle East, ​ will host Benjamin Piper as a key speaker this year. The Partner and Design Principal at Killa Design will be delivering a presentation about "Innovation, Technology and Design Tools in Façade Integration" at WDF's Future of Facades Summit, on September 24.
Here's what he told us ahead of the event:
What are the most interesting technologies and innovative solutions in the industry today?
There are a number of interesting developments in the facades industry today.
On one hand, we have a sophistication of off-the-shelf systems based facades, which is great for architects because it offers more choices in terms of systems that have beautiful proportions, quality finishes, and interesting mechanisms helping disguise the engineering behind these systems.
On the other hand, we have the development of robotically assisted facade productions. In contrast to the traditional way of procuring facades, it is now possible to share a three-dimensional digital model directly with the fabricator. This means that there's no need to translate the project into two-dimensional drawings: we can essentially replicate the digital model in the physical world. The outcome is an incredible drop in the cost of complexity through CAD cam processes: facades, which previously would have been way too costly to consider, are now becoming feasible within the commercial bounds of a typical project.
Today, we are also encountering very innovative systems such as Sage Glass that uses dynamic liquid crystals within the glass interlayer to increase the responsiveness and sustainability of the glass. Other exciting systems I've seen in Germany use a biological phenomenon like the growth of the algae within a window system to dynamically respond to solar exposure, creating a unique synergy between a biological system and a man-made one, that is, the building's façade.
What are the latest architectural trends in terms of facades sector in the region?
When it comes to facades, there's usually a sort of conflict between the engineering and energy performance of a façade, and its visual performance. As architects, we're always looking for the clearest glass, the largest openings, and the best color rendition through the glass. However, from a sustainability perspective, our collaborators and engineers strive to reduce the energy load on the building.
What's interesting today is that, thanks to advancements in the materials' science, we're more able to meet both these requirements simultaneously. We can finally have incredibly clear glass with quality visual rendering color, that also meets the energy performance standards mandated by the authorities.
How do you expect the industry to evolve in the future?
Some of the most interesting technologies that are emerging today focus on how facades respond to sunlight, wind, and other dynamic entities. There are two major types of dynamic, responsive facades that behave in different ways under different conditions.
The first type is the mechanical façade system that uses moving parts, such as moving louvers or external blinds, to help improve the energy performance of the façade. The second type is the solid-state façade system, which uses material technology to respond to the exposure of a façade, embedding for example liquid crystals.
I think that both these system types offer tremendous opportunities. They also respond to the current requirement for visual clarity and openness while protecting buildings from the energy of the Sun, and providing acoustic comfort to the occupants.
Can you give us some examples of the projects you've developed?
Killa Design is a relatively young firm: we've been running it for about three and a half years, but we are working on some quite ambitious and large-scale projects that push the envelope industry forward in terms of facade design.
At Killa Design, we really like to engage in complicated, challenging projects. The Museum of the Future is one of these. Here, we had to overcome the challenge of incorporating calligraphy at an architectural scale. The calligraphy on the façade of the Museum functions as the windows of the interior spaces, and it is placed on a double curved volume that we had to entirely clad in stainless steel. This is the kind of learning challenge we really relish at Killa Design: it keeps each project unique and fresh, allowing us to develop new ideas, new approaches, and new ways of looking at facades.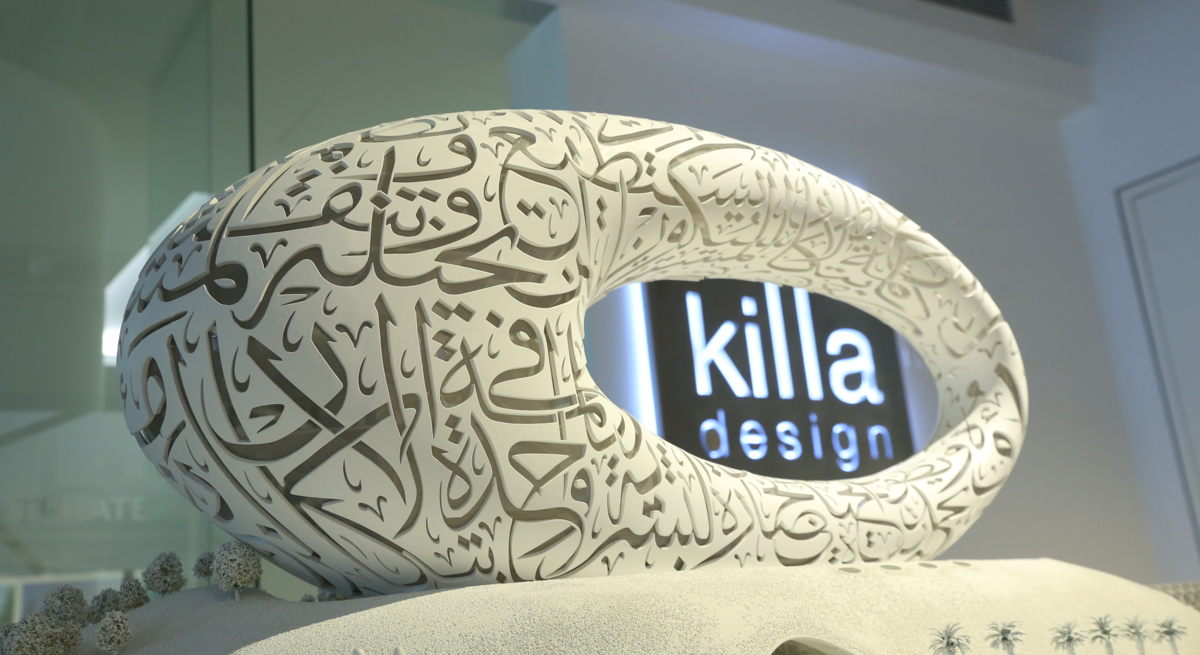 What can visitors expect to learn at your session at WDF's Future of Facades Summit?
Professionals attending the Future of Facades Summit will gain useful insights into the latest technologies and methodologies. More than that, the conversations that the event will spur, will offer a unique opportunity to understand our industry and build valuable connections with peers, consultants and suppliers. The work that we do as architects is very much based on keeping abreast of technological developments and trends - that's why I personally love attending WDF's Summit: it reinvigorates the process of design providing new ideas and opens new possibilities.
Why should industry professionals attend the Windows, Doors & Facades Event?
One of the fantastic aspects of attending the event is that, as an architect, you get the opportunity to physically touch the products and systems. This physical contact is what really gives you the confidence to specify and make recommendations for a project. When you're looking at a catalogue or an online document, you can't get a tactile understanding of what's on offer. Instead, as you walk around the Windows, Doors & Facades Event, you have the opportunity to touch and play with the product, ask the supplier questions, and have a solid understanding of the systems on display.
Register and attend for free Benjamin Piper's presentation by clicking HERE. ​
About Benjamin Piper
Ben Piper is a Principal and Partner with Killa Design with 18 years of professional experience in architecture (11 years in UAE). He is an experienced leader with an excellent ability to lead multidisciplinary teams in the delivery of building projects. He has held senior roles in a variety of global practices including Gensler, Halcrow, Atkins, Perkins+Will and Killa Design in designing hotel, residential and mixed-use developments in the Middle East, India, China, US and the UK.
Projects completed or under construction include 56-story VIDA Marina Branded residences and Hotel for Emaar, Dubai; 45-story BLVD Heights Residential Tower for Emaar, Dubai; 52-story Creekside Residence for Emaar, Dubai; 35-story commercial office building for Barwa Bank, Qatar; 280 Key Diplomatic Quarter Hotel Serviced Residences for Marriot, Riyadh; 300 Key Acacia Residences for Emaar, Dubai; 62-story BLVD Address 5-star hotel and serviced apartment for Emaar, Dubai; 60-story Namaste hotel for Starwood, Mumbai; 10,000 seat occupancy IT Offices for ITC, Bangalore.
Ben holds several technology patents from the Massachusetts Institute of Technology based on his research into the field of computational design tools. He has an expert understanding of REVIT and other software that support the efficient production of fully coordinated design packages. As a LEED Accredited Professional Ben is deeply committed to sustainable design and has implemented numerous energy, water and waste saving principles into his LEED Platinum rated design work. He is regularly invited to speak about his design work at major conferences and universities around the world.